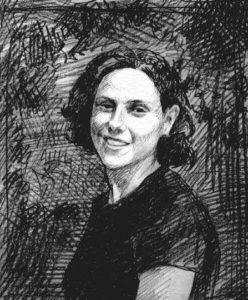 About Julia
"More stunning than her laugh, though, was her unbounded compassion for others. Never before have I met someone so ready to give. There is nothing she wouldn't do for her family - for the parents she cherished, the sister she worshipped, or for her grandparents, cousins, aunts and uncles - who somehow were always visiting Great Neck whenever the two of us wanted to have plans. She would do anything for her friends - everyone of us from North High through Yale feels we were closest to Julia because she showed us more love and support than you could ever anticipate from another. There is so much love in this room now - but we couldn't even begin to measure it against Julia's love for literally all things and all people." Michael Bosworth, 1999
Julia died of an undiagnosed heart condition on July 15, 1999 at the age of 21. At the time of her death, she was a rising senior at Yale University. Julia was a gifted writer, an athlete, and, above all, a selfless humanitarian. She devoted herself to improving the lives of those in need. As a college student she dedicated her summers and any free time to working with or on behalf of underprivileged children. Among her many activities, Julia was a counselor at a Fresh Air Fund camp, an intern with both the Children's Defense Fund and the Children's Law Center, and an active participant in the Peace Games at Yale.
This page collects some of Julia's writings and newspaper articles about her death.
front page article by Robert Davis
Many lives are lost across USA because emergency services fail
cover story by Jonathan Agronsky
CALL FOR HELP
A young woman collapsed on the street just 200 yards from a District fire station. It wasn't close enough
MAKE AN ONLINE DONATION TO Julia Rusinek Memorial Fund
Just click the donate button to go to our secure PayPal donation page. You can make a one time or recurring monthly donation.  Thank you!