Sunday, April 23 began as an impossibly gray and wet day. Steady rain, heavy at times, continued throughout the morning. Streams and pools of water were everywhere throughout Edgewood Park.
From the early morning, Marty and Joe were busy inspecting the course, unplugging drains to empty puddles, and removing fallen branches. Our D.J., Robert, set up shop under a tent, blasting music, cheering, and keeping everyone informed of the evolving weather-related challenges. LEAP staff and volunteers were present everywhere, distributing food, working at registration, and monitoring the course.
Under the roof of the Pavilion, an atmosphere of vibrant community prevailed, with runners, LEAP volunteers and staff, our family and friends all bonding around one cause. Our dear friends and family, including Ariella, Eugene, Genya, Jeremy, Lucyna, Rose, Rebecca, Shelli and Victor helped with registration, T-shirts and trophies. Victor was busy taking photos. A friendly team from Physical Therapy & Sports Medicine offered stretching and running advice. AMR Ambulance Partnership kept a watchful eye. The rain made things impossibly difficult for Marty, but he persevered while maintaining the spirit of adventure.
Before the "fun run", Dona Cramond gathered the kids to brave the pouring rain for a pre-run stretch. The runners and walkers were undeterred. The 5K race was dominated from start to finish by Amanda Morgan (setting a Julia Run course record of 20:06 for a female runner) and Benjamin Kellenberger. They ran neck-in-neck, maintaining an impressive < 6:30-mile pace. Out of nearly 200 registrants, 77 officially-timed and very wet runners crossed the finish line. The proceeds donated to LEAP from Julia Run 2023 totalled $25,000. LEAP raised additional donations from other sources as a result of this successful event.
What's on 2023 run page:
results, first at finish line
results by performance -- age adjusted
photo galleries -- photo credits: Victor Serlin
WTNH interview with LEAP director Henry Fernandez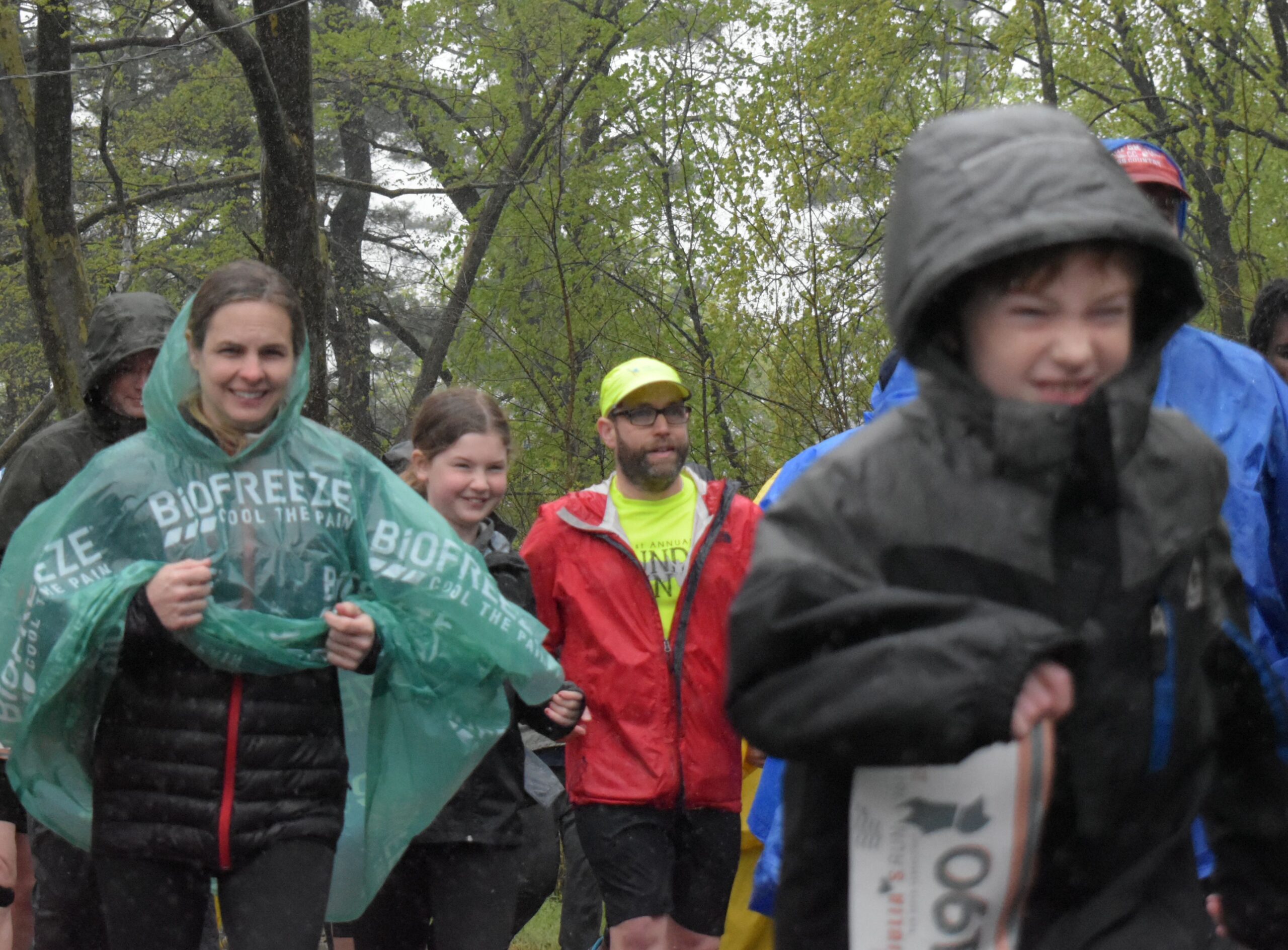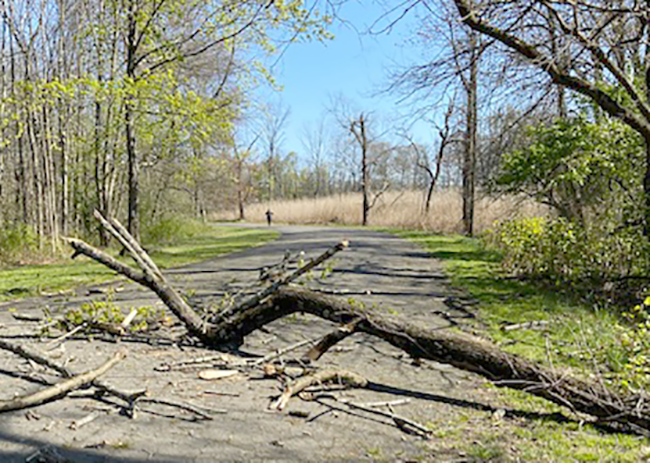 | Place | First Name | Last Name | Time | Perf | Division | Pace | | |
| --- | --- | --- | --- | --- | --- | --- | --- | --- |
| 1 | Benjamin | Kellenberger | 20:05.0 | 64.6% | M 30-39 | 6:29 | | |
| 2 | Amanda | Morgan | 20:06.3 | 75.2% | F 40-49 | 6:29 | | |
| 3 | Anthony | Chowanec | 20:14.8 | 64.8% | M 30-39 | 6:32 | | |
| 4 | Yasin | Tarabar | 20:53.0 | 62.1% | M 19-29 | 6:44 | | |
| 5 | Lars | Ratjen | 21:00.0 | 64.2% | M 40-49 | 6:46 | | |
| 6 | Justin | Vega | 21:44.6 | 59.7% | M 30-39 | 7:01 | | |
| 7 | Daniel | Leblanc | 22:19.1 | 60.4% | M 40-49 | 7:12 | | |
| 8 | Sebastian | Ibarraran | 22:54.1 | 56.7% | M 19-29 | 7:23 | | |
| 9 | Heidi | Langan | 23:14.6 | 71.6% | F 50-59 | 7:30 | | |
| 10 | Isabel | Shim | 23:24.8 | 61.5% | F 19-29 | 7:33 | | |
| 11 | David | Simon | 23:30.0 | 62.8% | M 50-59 | 7:35 | | |
| 12 | Danny | Lee | 23:57.8 | 54.1% | M 19-29 | 7:44 | | |
| 13 | Benjamin | Xu | 24:12.5 | 53.9% | M 14-18 | 7:49 | | |
| 14 | Kevin | Tranberg | 24:35.1 | 61.1% | M 50-59 | 7:56 | | |
| 15 | Carlos | Huerta | 24:36.0 | 57.3% | M 40-49 | 7:56 | | |
| 16 | Dionel | Altreche | 25:17.0 | 51.3% | M 30-39 | 8:09 | | |
| 17 | Ilana | Richman | 25:17.5 | 59.8% | F 40-49 | 8:10 | | |
| 18 | Anonymous | Participant | 25:17.6 | 57.1% | M 40-49 | 8:10 | | |
| 19 | Jason | Horton | 25:17.7 | 51.8% | M 30-39 | 8:10 | | |
| 20 | Lisa | Romanchick | 25:51.7 | 69.0% | F 50-59 | 8:21 | | |
| 21 | Jenny | Wang | 26:06.0 | 55.2% | F 19-29 | 8:25 | | |
| 22 | Sean | Koehler | 26:10.8 | 51.9% | M 40-49 | 8:27 | | |
| 23 | Jeremy | Sobel | 26:24.1 | 49.1% | M 19-29 | 8:31 | | |
| 24 | Stephen | Cuddy | 26:28.8 | 61.0% | M 60-69 | 8:33 | | |
| 25 | Jeremy | Silverstein | 26:32.0 | 48.9% | M 19-29 | 8:34 | | |
| 26 | Peter | Gloor | 26:32.0 | 62.1% | M 60-69 | 8:34 | | |
| 27 | Jacky | Chen | 27:06.2 | 47.9% | M 19-29 | 8:45 | | |
| 28 | Inga | Shchelik | 27:08.7 | 53.0% | F 30-39 | 8:45 | | |
| 29 | Marc | Audet | 27:21.0 | 60.2% | M 60-69 | 8:49 | | |
| 30 | Tevon | Lewis | 27:22.0 | 47.4% | M 30-39 | 8:50 | | |
| 31 | Isabel | Cuddy | 27:44.3 | 51.9% | F 19-29 | 8:57 | | |
| 32 | A. | Croteau | 28:09.0 | 58.6% | M <=9 | 9:05 | | |
| 33 | Sean | Croteau | 28:10.0 | 50.0% | M 40-49 | 9:05 | | |
| 34 | Ariella | Sobel | 28:12.8 | 51.6% | F 14-18 | 9:06 | | |
| 35 | Gurjot | Singh | 28:20.8 | 45.8% | M 19-29 | 9:09 | | |
| 36 | Michael | Kavey | 28:35.0 | 48.9% | M 40-49 | 9:13 | | |
| 37 | Robert | Takizawa | 28:42.2 | 45.2% | M 19-29 | 9:16 | | |
| 38 | Andriy | Shevchuk | 28:51.7 | 47.4% | M 40-49 | 9:19 | | |
| 39 | Uliana | Rymar | 28:51.8 | 49.9% | F 30-39 | 9:19 | | |
| 40 | Ira | Mills | 29:12.8 | 58.3% | M 60-69 | 9:25 | | |
| 41 | L. | Wiley | 29:31.9 | 53.1% | F 14-18 | 9:32 | | |
| 42 | Aron | Unger | 29:32.0 | 43.9% | M 19-29 | 9:32 | | |
| 43 | David | Backeberg | 29:36.0 | 46.2% | M 40-49 | 9:33 | | |
| 44 | Julia | Kurjakova | 29:38.4 | 48.6% | F 30-39 | 9:34 | | |
| 45 | Amy | Boratko | 30:01.4 | 50.8% | F 40-49 | 9:41 | | |
| 46 | Vivian | Sobel | 30:55.8 | 52.8% | F 40-49 | 9:59 | | |
| 47 | Karsten | Gogolin | 31:00.9 | 47.6% | M 50-59 | 10:00 | | |
| 48 | Rachael | Konigsberg | 31:24.5 | 47.0% | F 30-39 | 10:08 | | |
| 49 | Rebecca | Neuwirth | 31:25.5 | 52.0% | F 40-49 | 10:08 | | |
| 50 | Way | Hedding | 31:42.8 | 57.7% | M 70-79 | 10:14 | | |
| 51 | Leora | Maltz-Leca | 32:12.8 | 51.3% | F 40-49 | 10:22 | | |
| 52 | G. | Leca | 32:12.9 | 52.8% | M 10-13 | 10:22 | | |
| 53 | Richard | Spears | 32:15.0 | 49.1% | M 60-69 | 10:24 | | |
| 54 | LuAnne | Roy | 33:04.2 | 60.8% | F 60-69 | 10:40 | | |
| 55 | Nikolai | Stephens-Zumbaum | 33:26.1 | 39.0% | M 14-18 | 10:47 | | |
| 56 | Anonymous | Participant | 33:26.2 | 43.2% | F 14-18 | 10:47 | | |
| 57 | Carolina | Gomis-Perez | 33:53.5 | 45.3% | F 40-49 | 10:56 | | |
| 58 | Kim_Dorothy | Theleen | 34:46.5 | 54.9% | F 60-69 | 11:13 | | |
| 59 | A. | Gill | 34:55.0 | 50.1% | F <=9 | 11:16 | | |
| 60 | Justin | Gill | 34:56.2 | 41.3% | M 40-49 | 11:16 | | |
| 61 | Summer | Choate | 35:06.6 | 41.0% | F 19-29 | 11:20 | | |
| 62 | Ane | Landajuela | 35:31.2 | 41.5% | F 30-39 | 11:27 | | |
| 63 | X. | Koehler | 36:28.0 | 55.3% | M <=9 | 11:46 | | |
| 64 | Ron | Theleen | 36:33.7 | 45.5% | M 60-69 | 11:48 | | |
| 65 | Nahum | Silverstein | 36:49.5 | 35.2% | M 30-39 | 11:53 | | |
| 66 | Anonymous | Participant | 37:15.6 | 46.2% | M 60-69 | 12:01 | | |
| 67 | Erica | Harris | 38:13.2 | 42.4% | F 40-49 | 12:20 | | |
| 68 | Charles | Matassa | 38:32.8 | 44.2% | M 60-69 | 12:26 | | |
| 69 | Chris | Omeltchenko | 40:01.9 | 41.2% | M 60-69 | 12:55 | | |
| 70 | Judi | Silliere | 40:19.6 | 46.2% | M 60-69 | 13:01 | | |
| 71 | Peter | Forchetti | 41:10.0 | 31.5% | M 19-29 | 13:17 | | |
| 72 | Donna | Cramond | 42:34.6 | 50.7% | F 70-79 | 13:44 | | |
| 73 | Henry | Rusinek | 42:42.9 | 44.7% | M 70-79 | 13:47 | | |
| 74 | Jianchao | Xu | 49:47.5 | 31.0% | M 50-59 | 16:04 | | |
| 75 | Mike | Feinberg | 53:31.0 | 26.3% | M 40-49 | 17:16 | | |
| 76 | Marquise | Sessions | 53:31.9 | 24.2% | M 19-29 | 17:16 | | |
| 77 | Ann_Louise | Onton | 64:59.6 | 36.9% | F 70-79 | 20:58 | | |
| PerfRank | First Name | Last Name | Perf | Time | Division |
| --- | --- | --- | --- | --- | --- |
| 1 | Amanda | Morgan | 75.2% | 20:06.3 | F 40-49 |
| 2 | Heidi | Langan | 71.6% | 23:14.6 | F 50-59 |
| 3 | Lisa | Romanchick | 69.0% | 25:51.7 | F 50-59 |
| 4 | Anthony | Chowanec | 64.8% | 20:14.8 | M 30-39 |
| 5 | Benjamin | Kellenberger | 64.6% | 20:05.0 | M 30-39 |
| 6 | Lars | Ratjen | 64.2% | 21:00.0 | M 40-49 |
| 7 | David | Simon | 62.8% | 23:30.0 | M 50-59 |
| 8 | Yasin | Tarabar | 62.1% | 20:53.0 | M 19-29 |
| 9 | Peter | Gloor | 62.1% | 26:32.0 | M 60-69 |
| 10 | Isabel | Shim | 61.5% | 23:24.8 | F 19-29 |
| 11 | Kevin | Tranberg | 61.1% | 24:35.1 | M 50-59 |
| 12 | Stephen | Cuddy | 61.0% | 26:28.8 | M 60-69 |
| 13 | LuAnne | Roy | 60.8% | 33:04.2 | F 60-69 |
| 14 | Daniel | Leblanc | 60.4% | 22:19.1 | M 40-49 |
| 15 | Marc | Audet | 60.2% | 27:21.0 | M 60-69 |
| 16 | Ilana | Richman | 59.8% | 25:17.5 | F 40-49 |
| 17 | Justin | Vega | 59.7% | 21:44.6 | M 30-39 |
| 18 | A. | Croteau | 58.6% | 28:09.0 | M <=9 |
| 19 | Ira | Mills | 58.3% | 29:12.8 | M 60-69 |
| 20 | Way | Hedding | 57.7% | 31:42.8 | M 70-79 |
| 21 | Carlos | Huerta | 57.3% | 24:36.0 | M 40-49 |
| 22 | Anonymous | Participant | 57.1% | 25:17.6 | M 40-49 |
| 23 | Sebastian | Ibarraran | 56.7% | 22:54.1 | M 19-29 |
| 24 | X. | Koehler | 55.3% | 36:28.0 | M <=9 |
| 25 | Jenny | Wang | 55.2% | 26:06.0 | F 19-29 |
| 26 | Kim_Dorothy | Theleen | 54.9% | 34:46.5 | F 60-69 |
| 27 | Danny | Lee | 54.1% | 23:57.8 | M 19-29 |
| 28 | Benjamin | Xu | 53.9% | 24:12.5 | M 14-18 |
| 29 | L. | Wiley | 53.1% | 29:31.9 | F 14-18 |
| 30 | Inga | Shchelik | 53.0% | 27:08.7 | F 30-39 |
| 31 | Vivian | Sobel | 52.8% | 30:55.8 | F 40-49 |
| 32 | G. | Leca | 52.8% | 32:12.9 | M 10-13 |
| 33 | Rebecca | Neuwirth | 52.0% | 31:25.5 | F 40-49 |
| 34 | Isabel | Cuddy | 51.9% | 27:44.3 | F 19-29 |
| 35 | Sean | Koehler | 51.9% | 26:10.8 | M 40-49 |
| 36 | Jason | Horton | 51.8% | 25:17.7 | M 30-39 |
| 37 | Ariella | Sobel | 51.6% | 28:12.8 | F 14-18 |
| 38 | Dionel | Altreche | 51.3% | 25:17.0 | M 30-39 |
| 39 | Leora | Maltz-Leca | 51.3% | 32:12.8 | F 40-49 |
| 40 | Amy | Boratko | 50.8% | 30:01.4 | F 40-49 |
| 41 | Donna | Cramond | 50.7% | 42:34.6 | F 70-79 |
| 42 | A. | Gill | 50.1% | 34:55.0 | F <=9 |
| 43 | Sean | Croteau | 50.0% | 28:10.0 | M 40-49 |
| 44 | Uliana | Rymar | 49.9% | 28:51.8 | F 30-39 |
| 45 | Jeremy | Sobel | 49.1% | 26:24.1 | M 19-29 |
| 46 | Richard | Spears | 49.1% | 32:15.0 | M 60-69 |
| 47 | Michael | Kavey | 48.9% | 28:35.0 | M 40-49 |
| 48 | Jeremy | Silverstein | 48.9% | 26:32.0 | M 19-29 |
| 49 | Julia | Kurjakova | 48.6% | 29:38.4 | F 30-39 |
| 50 | Jacky | Chen | 47.9% | 27:06.2 | M 19-29 |
| 51 | Karsten | Gogolin | 47.6% | 31:00.9 | M 50-59 |
| 52 | Tevon | Lewis | 47.4% | 27:22.0 | M 30-39 |
| 53 | Andriy | Shevchuk | 47.4% | 28:51.7 | M 40-49 |
| 54 | Rachael | Konigsberg | 47.0% | 31:24.5 | F 30-39 |
| 55 | Judi | Silliere | 46.2% | 40:19.6 | M 60-69 |
| 56 | David | Backeberg | 46.2% | 29:36.0 | M 40-49 |
| 57 | Anonymous | Participant | 46.2% | 37:15.6 | M 60-69 |
| 58 | Gurjot | Singh | 45.8% | 28:20.8 | M 19-29 |
| 59 | Ron | Theleen | 45.5% | 36:33.7 | M 60-69 |
| 60 | Carolina | Gomis-Perez | 45.3% | 33:53.5 | F 40-49 |
| 61 | Robert | Takizawa | 45.2% | 28:42.2 | M 19-29 |
| 62 | Henry | Rusinek | 44.7% | 42:42.9 | M 70-79 |
| 63 | Charles | Matassa | 44.2% | 38:32.8 | M 60-69 |
| 64 | Aron | Unger | 43.9% | 29:32.0 | M 19-29 |
| 65 | Anonymous | Participant | 43.2% | 33:26.2 | F 14-18 |
| 66 | Erica | Harris | 42.4% | 38:13.2 | F 40-49 |
| 67 | Ane | Landajuela | 41.5% | 35:31.2 | F 30-39 |
| 68 | Justin | Gill | 41.3% | 34:56.2 | M 40-49 |
| 69 | Chris | Omeltchenko | 41.2% | 40:01.9 | M 60-69 |
| 70 | Summer | Choate | 41.0% | 35:06.6 | F 19-29 |
| 71 | Nikolai | Stephens-Zumbaum | 39.0% | 33:26.1 | M 14-18 |
| 72 | Ann_Louise | Onton | 36.9% | 64:59.6 | F 70-79 |
| 73 | Nahum | Silverstein | 35.2% | 36:49.5 | M 30-39 |
| 74 | Peter | Forchetti | 31.5% | 41:10.0 | M 19-29 |
| 75 | Jianchao | Xu | 31.0% | 49:47.5 | M 50-59 |
| 76 | Mike | Feinberg | 26.3% | 53:31.0 | M 40-49 |
| 77 | Marquise | Sessions | 24.2% | 53:31.9 | M 19-29 |
1. before the run

2. fun run for kids

3. start of 5k race

4. first at the finish

5. finish line

6. speeches and awards