The 23th annual Julia's Run for Children took place at Edgewood Park in New Haven, CT on Saturday, April 30, 2022. The morning was sunny and crisp. The venue was filled with runners, their families and friends, a crowd of people of all ages. LEAP's helpers were everywhere, perfectly coordinated in discharging their duties, smiling and having fun. Our dear friends and family: Dora, Elyse, Eugene, Genya, Linda, Lucyna, Rose, Terry and Victor helped with registration and distribution of T-shirts. Victor, Rachel and John Grant were busy taking photos. Danna Cramond's prepping and cheering on the kids was an event in itself. Music played by Elegant Occasion's DJ, Robert Waldron, added to the atmosphere of warm camaraderie and good cheer. A friendly team from Fred Havlicek Physical Therapy & Sports Medicine provided free sessions and expert advice on orthopedics and sports-related injuries. Snacks were donated by Jonathan Edwards College, Yale University and many local businesses in response to LEAP's solicitations. It was a comfort to have an ambulance from the AMR Ambulance Partnership on site. Thank you, Bill Schietinger, for your generosity.
Thanks to the excellent organization and complete dedication of our Race Director, Marty Schaivone the event went without a hitch. There were 232 registrants, including 62 children for the Kids Run. The main 5K race, timed by Jim Gerweck, was completed by 133 runners. During the awards ceremony Julia Sobel read her aunt Julia's poem This Life. The proceeds to LEAP from JRMF were $20,000. LEAP raised additional $4350 from other sources. This is what Donna wrote to us after the Run:
…It was certainly my pleasure and honor to be a part of the Reboot of the Run for Julia. I was so happy when Marty asked me to help with the Kids. The entire event was memorable. You and your family are admirable and an example of what family should be!! Finding the Joy and Purpose of Life. It was also a pleasure to be running near Henry during the 5k. Tell him I think we both CRUSHED the course. As I told Sandy and Odette, the volunteers I had for the kids were extraordinary! I grew up in the Edgewood Park neighborhood (My Grandmother's house was directly across the street from the Parking lot on West Rock Ave) so that only amplified the beauty of the Day. With the help of God I will see you again next year.     Love and God bless you and your family,   Donna
What's on 2022 run page:
results, first at finish line
results by performance -- age adjusted
7 photo galleries -- photo credits: Victor Serlin, Rachel Kline Brown, John Grant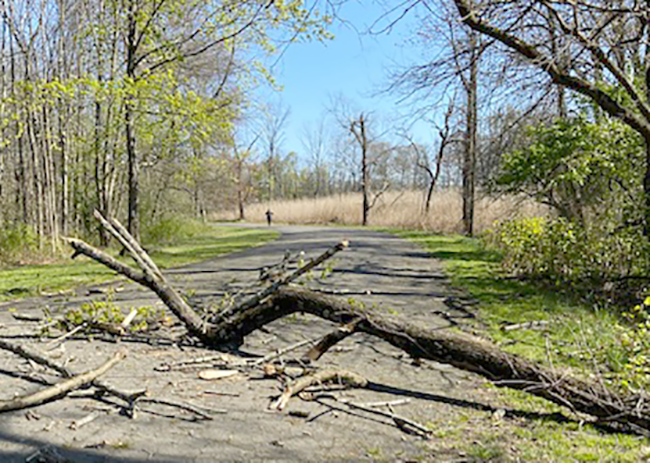 We are fortunate to have a diligent run organizer, Marty Schiavone.
Marty did an "eleventh hour" inspection of the race course on Friday,
a very windy day before the race. This is what he found.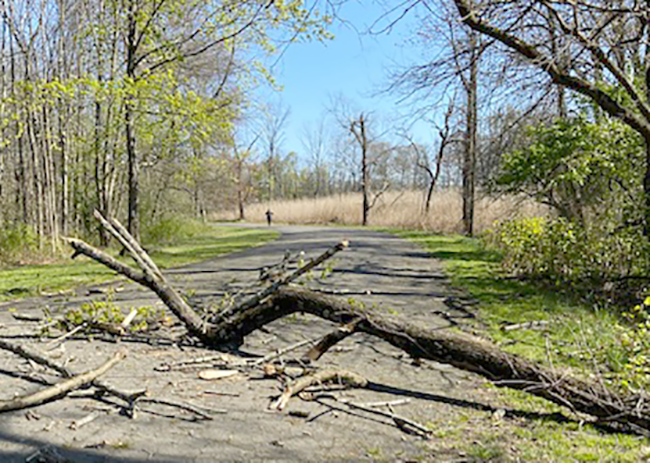 Results of 2022 5k run
| Place | First Name | Last Name | Time | Perf | Division | RankDiv | Pace |
| --- | --- | --- | --- | --- | --- | --- | --- |
| 1 | Philip | O'Connor | 19:33.6 | 76.8% | M 50-59 | 1 | 6:18 |
| 2 | Philip | Warren | 19:40.8 | 66.9% | M 14-18 | 1 | 6:21 |
| 3 | Chris | Merrill | 20:27.1 | 70.5% | M 40-49 | 1 | 6:35 |
| 4 | Efrain | Pontaza | 20:44.4 | 62.6% | M 19-29 | 1 | 6:41 |
| 5 | Andy | Asensio | 20:44.5 | 64.5% | M 30-39 | 1 | 6:41 |
| 6 | Jeremy | Grant | 21:01.6 | 64.1% | M 40-49 | 2 | 6:47 |
| 7 | Lauren | Fitzgerald | 21:11.8 | 67.9% | F 19-29 | 1 | 6:50 |
| 8 | Paul | Miskowicz | 21:24.6 | 62.5% | M 30-39 | 2 | 6:54 |
| 9 | Ally | Eidemueller | 21:46.1 | 66.1% | F 19-29 | 2 | 7:01 |
| 10 | Daniel | Leblanc | 21:47.3 | 61.4% | M 30-39 | 3 | 7:01 |
| 11 | Tom | Fatone | 22:06.3 | 67.4% | M 50-59 | 2 | 7:07 |
| 12 | Luis | Osorio Magaña | 22:10.2 | 58.5% | M 19-29 | 2 | 7:09 |
| 13 | Ronni | Luftig | 22:18.8 | 64.5% | F 19-29 | 3 | 7:11 |
| 14 | William | Kenny | 22:21.4 | 58.0% | M 30-39 | 4 | 7:12 |
| 15 | Mary Margaret | Schroeder | 22:24.7 | 64.2% | F 19-29 | 4 | 7:13 |
| 16 | John | Castelluzzo | 22:37.0 | 60.0% | M 40-49 | 3 | 7:17 |
| 17 | Jeremy | Sobel | 22:39.4 | 57.6% | M 14-18 | 2 | 7:18 |
| 18 | Peter | Gloor | 22:44.0 | 71.8% | M 60-69 | 1 | 7:20 |
| 19 | Alexis | Cruz | 22:55.6 | 62.8% | F 19-29 | 5 | 7:23 |
| 20 | Tomas | Montilla | 23:06.0 | 56.2% | M 19-29 | 3 | 7:27 |
| 21 | Hunter | Fluegel | 23:06.5 | 56.1% | M 19-29 | 4 | 7:27 |
| 22 | Yolanda | Santos | 23:18.8 | 61.8% | F 19-29 | 6 | 7:31 |
| 23 | Carlos | Huerta | 23:20.3 | 59.9% | M 40-49 | 4 | 7:31 |
| 24 | Ariella | Sobel | 23:43.4 | 61.8% | F 14-18 | 1 | 7:39 |
| 25 | Sean | Croteau | 24:10.9 | 57.8% | M 40-49 | 5 | 7:47 |
| 26 | Barbara | Pearce | 25:07.6 | 78.9% | F 60-69 | 1 | 8:06 |
| 27 | Karen | Stangl | 25:11.8 | 62.0% | F 40-49 | 1 | 8:07 |
| 28 | Jahvon | Soto | 25:24.8 | 51.1% | M 19-29 | 5 | 8:11 |
| 29 | Michael | Walters | 25:28.8 | 59.4% | M 50-59 | 3 | 8:13 |
| 30 | Dan | Valen | 26:18.4 | 49.8% | M 30-39 | 5 | 8:29 |
| 31 | Janis | Grant | 26:41.1 | 73.3% | F 60-69 | 2 | 8:36 |
| 32 | Kevin | Tranberg | 27:06.6 | 54.9% | M 50-59 | 4 | 8:44 |
| 33 | Vivian | Sobel | 27:09.1 | 59.6% | F 40-49 | 2 | 8:45 |
| 34 | Marcos | Soto | 27:15.8 | 52.1% | M 40-49 | 6 | 8:47 |
| 35 | Daniel | Kats | 27:38.1 | 47.0% | M 19-29 | 6 | 8:54 |
| 36 | Nadya | Korytnikova | 27:39.1 | 52.1% | F 30-39 | 1 | 8:54 |
| 37 | Dingtian | Zhang | 27:39.3 | 46.9% | M 30-39 | 6 | 8:55 |
| 38 | Julia | Sobel | 27:45.1 | 54.2% | F 14-18 | 2 | 8:56 |
| 39 | Ira | Mills | 27:51.4 | 60.4% | M 60-69 | 2 | 8:58 |
| 40 | TJ | Westerberg | 28:00.2 | 49.2% | M 40-49 | 7 | 9:01 |
| 41 | Eliesia | Mendes | 28:20.1 | 52.5% | F 30-39 | 2 | 9:08 |
| 42 | Randall | Beach | 28:36.5 | 62.4% | M 70-79 | 1 | 9:13 |
| 43 | Susanne | Radke | 28:41.3 | 56.4% | F 40-49 | 3 | 9:15 |
| 44 | Becky | Grant | 29:00.0 | 51.7% | F 30-39 | 3 | 9:21 |
| 45 | Kevin | Ryan | 29:22.2 | 55.5% | M 60-69 | 3 | 9:28 |
| 46 | Andie | Williamson | 29:33.4 | 67.1% | F 60-69 | 3 | 9:31 |
| 47 | Mitsuko | Washington | 29:37.0 | 57.8% | F 50-59 | 1 | 9:32 |
| 48 | Cristian | Pagano | 30:01.6 | 43.2% | M 19-29 | 7 | 9:40 |
| 49 | Julia | Stepien | 30:08.9 | 47.8% | F 19-29 | 7 | 9:43 |
| 50 | Philip | Ward | 30:10.7 | 50.2% | M 50-59 | 5 | 9:43 |
| 51 | Laurie | Hedman | 30:22.2 | 59.4% | F 50-59 | 2 | 9:47 |
| 52 | Richard | Spears | 30:31.5 | 51.4% | M 50-59 | 6 | 9:50 |
| 53 | Leora | Maltz-Leca | 30:36.5 | 53.4% | F 40-49 | 4 | 9:52 |
| 54 | Christine | Glenn | 31:00.1 | 58.8% | F 60-69 | 4 | 9:59 |
| 55 | Rebecca | Neuwirth | 31:06.8 | 52.0% | F 40-49 | 5 | 10:01 |
| 56 | Dianne | Eagan | 31:06.8 | 56.7% | F 50-59 | 3 | 10:01 |
| 57 | Rachael | Konigsberg | 31:07.7 | 47.0% | F 30-39 | 4 | 10:02 |
| 58 | Megan | Luizzi | 32:14.6 | 46.1% | F 30-39 | 5 | 10:23 |
| 59 | Leo | Jakubiak | 32:27.0 | 44.0% | M 10--13 | 1 | 10:27 |
| 60 | Katia | Tavarez | 32:36.7 | 44.5% | F 30-39 | 6 | 10:30 |
| 61 | Jane | Holler | 33:02.9 | 64.4% | F 70-79 | 1 | 10:39 |
| 62 | Mary | Giannotti | 33:05.3 | 51.3% | F 50-59 | 4 | 10:40 |
| 63 | Kelli | Tucker | 33:21.4 | 43.2% | F 19-29 | 8 | 10:45 |
| 64 | Aland | Beliard | 33:23.8 | 38.9% | M 19-29 | 8 | 10:45 |
| 65 | Carole | Goldberg | 33:30.5 | 68.9% | F 70-79 | 2 | 10:48 |
| 66 | Crystal | Zamfino | 33:31.7 | 44.7% | F 30-39 | 7 | 10:48 |
| 67 | Kelly | Blanchat | 34:11.1 | 43.2% | F 30-39 | 8 | 11:01 |
| 68 | Christine | Lane | 34:27.7 | 43.5% | F 30-39 | 9 | 11:06 |
| 69 | Amy | Migliore | 34:27.7 | 50.2% | F 50-59 | 5 | 11:06 |
| 70 | Celia | Waters | 34:53.2 | 41.3% | F 30-39 | 10 | 11:14 |
| 71 | Thomas | Sheehan | 34:55.9 | 52.4% | M 70-79 | 2 | 11:15 |
| 72 | Lara | Wiley | 35:25.4 | 45.6% | F 10--13 | 1 | 11:25 |
| 73 | David | Backeberg | 35:26.1 | 38.3% | M 40-49 | 8 | 11:25 |
| 74 | Karen | Wang | 35:42.8 | 44.1% | F 40-49 | 6 | 11:30 |
| 75 | Andrew | Endres | 35:48.2 | 37.7% | M 14-18 | 3 | 11:32 |
| 76 | Jasmina | Krehic | 35:48.2 | 40.6% | F 14-18 | 3 | 11:32 |
| 77 | Alexandra | Rouwenhorst | 35:48.9 | 45.1% | F 10--13 | 2 | 11:32 |
| 78 | Geert | Rouwenhorst | 35:49.1 | 45.1% | M 60-69 | 4 | 11:32 |
| 79 | Joyner | Mosley | 36:07.0 | 41.2% | M 50-59 | 7 | 11:38 |
| 80 | Jaslin | Johnson | 36:07.5 | 39.9% | F 19-29 | 9 | 11:38 |
| 81 | Zach | Druan | 36:55.6 | 35.1% | M 19-29 | 9 | 11:54 |
| 82 | Kylee | Vitka-Lainey | 37:07.1 | 38.8% | F 19-29 | 10 | 11:57 |
| 83 | Peter | Forchetti | 37:45.8 | 34.4% | M 19-29 | 10 | 12:10 |
| 84 | Rosa | Perez | 37:52.7 | 38.0% | F 19-29 | 11 | 12:12 |
| 85 | Janna | White | 38:00.4 | 37.9% | F 19-29 | 12 | 12:15 |
| 86 | Charles | Matassa | 38:13.0 | 44.0% | M 60-69 | 5 | 12:19 |
| 87 | Tom | Clifford | 38:30.2 | 46.3% | M 70-79 | 3 | 12:24 |
| 88 | Donna | Cramond | 39:44.1 | 53.5% | F 70-79 | 3 | 12:48 |
| 89 | Karen | Weiler | 40:17.2 | 42.5% | F 50-59 | 6 | 12:59 |
| 90 | Robert | Garcia | 40:17.7 | 40.9% | M 60-69 | 6 | 12:59 |
| 91 | Henry | Rusinek | 40:42.1 | 46.2% | M 70-79 | 4 | 13:07 |
| 92 | Flavia | Perez | 42:15.6 | 37.3% | F 40-49 | 7 | 13:37 |
| 93 | Patty | Carton | 42:30.8 | 62.8% | F 80+ | 1 | 13:42 |
| 94 | Gerald | Patrick | 44:10.4 | 47.7% | M 80+ | 1 | 14:14 |
| 95 | John | DaPonte | 44:11.2 | 41.4% | M 70-79 | 5 | 14:14 |
| 96 | Michael | Kavey | 45:38.0 | 30.4% | M 40-49 | 9 | 14:42 |
| 97 | Susan | Kerley | 46:01.7 | 44.9% | F 70-79 | 4 | 14:49 |
| 98 | Sydney | Finch | 47:26.0 | 30.4% | F 19-29 | 13 | 15:17 |
| 99 | Kevin | Finch | 47:26.2 | 31.7% | M 50-59 | 8 | 15:17 |
| 100 | Jadine | Finch | 47:26.3 | 36.1% | F 50-59 | 7 | 15:17 |
| 101 | Natan | Bauman | 50:59.9 | 37.4% | M 70-79 | 6 | 16:25 |
| 102 | Kristin | Wetmore | 1:02:23 | 28.0% | F 50-59 | 8 | 20:05 |
| 103 | Zakarai | Schneider | 1:02:23 | 20.8% | M 19-29 | 11 | 20:05 |
Julia's run 2022 - best performance
Runners are listed in order of their performance level, adjusted for age and sex. The 5k run time of each runner is compared to the recent world record for corresponding age and sex. Records are based on "Masters Age Graded Tables" compiled by the World Association of Veteran Athletes. The performance represent:
over 90% - world class
over 80% - national class
over 70% - regional class
over 60% - local class

| RankPerf | First Name | Last Name | Perf | Time | Division |
| --- | --- | --- | --- | --- | --- |
| 1 | Barbara | Pearce | 78.9% | 25:07.6 | F 60-69 |
| 2 | Philip | O'Connor | 76.8% | 19:33.6 | M 50-59 |
| 3 | Janis | Grant | 73.3% | 26:41.1 | F 60-69 |
| 4 | Peter | Gloor | 71.8% | 22:44.0 | M 60-69 |
| 5 | Chris | Merrill | 70.5% | 20:27.1 | M 40-49 |
| 6 | Carole | Goldberg | 68.9% | 33:30.5 | F 70-79 |
| 7 | Lauren | Fitzgerald | 67.9% | 21:11.8 | F 19-29 |
| 8 | Tom | Fatone | 67.4% | 22:06.3 | M 50-59 |
| 9 | Andie | Williamson | 67.1% | 29:33.4 | F 60-69 |
| 10 | Philip | Warren | 66.9% | 19:40.8 | M 14-18 |
| 11 | Ally | Eidemueller | 66.1% | 21:46.1 | F 19-29 |
| 12 | Andy | Asensio | 64.5% | 20:44.5 | M 30-39 |
| 13 | Ronni | Luftig | 64.5% | 22:18.8 | F 19-29 |
| 14 | Jane | Holler | 64.4% | 33:02.9 | F 70-79 |
| 15 | Mary Margaret | Schroeder | 64.2% | 22:24.7 | F 19-29 |
| 16 | Jeremy | Grant | 64.1% | 21:01.6 | M 40-49 |
| 17 | Alexis | Cruz | 62.8% | 22:55.6 | F 19-29 |
| 18 | Patty | Carton | 62.8% | 42:30.8 | F 80+ |
| 19 | Efrain | Pontaza | 62.6% | 20:44.4 | M 19-29 |
| 20 | Paul | Miskowicz | 62.5% | 21:24.6 | M 30-39 |
| 21 | Randall | Beach | 62.4% | 28:36.5 | M 70-79 |
| 22 | Karen | Stangl | 62.0% | 25:11.8 | F 40-49 |
| 23 | Ariella | Sobel | 61.8% | 23:43.4 | F 14-18 |
| 24 | Yolanda | Santos | 61.8% | 23:18.8 | F 19-29 |
| 25 | Daniel | Leblanc | 61.4% | 21:47.3 | M 30-39 |
| 26 | Ira | Mills | 60.4% | 27:51.4 | M 60-69 |
| 27 | John | Castelluzzo | 60.0% | 22:37.0 | M 40-49 |
| 28 | Carlos | Huerta | 59.9% | 23:20.3 | M 40-49 |
| 29 | Vivian | Sobel | 59.6% | 27:09.1 | F 40-49 |
| 30 | Michael | Walters | 59.4% | 25:28.8 | M 50-59 |
| 31 | Laurie | Hedman | 59.4% | 30:22.2 | F 50-59 |
| 32 | Christine | Glenn | 58.8% | 31:00.1 | F 60-69 |
| 33 | Luis | Osorio Magaña | 58.5% | 22:10.2 | M 19-29 |
| 34 | William | Kenny | 58.0% | 22:21.4 | M 30-39 |
| 35 | Mitsuko | Washington | 57.8% | 29:37.0 | F 50-59 |
| 36 | Sean | Croteau | 57.8% | 24:10.9 | M 40-49 |
| 37 | Jeremy | Sobel | 57.6% | 22:39.4 | M 14-18 |
| 38 | Dianne | Eagan | 56.7% | 31:06.8 | F 50-59 |
| 39 | Susanne | Radke | 56.4% | 28:41.3 | F 40-49 |
| 40 | Tomas | Montilla | 56.2% | 23:06.0 | M 19-29 |
| 41 | Hunter | Fluegel | 56.1% | 23:06.5 | M 19-29 |
| 42 | Kevin | Ryan | 55.5% | 29:22.2 | M 60-69 |
| 43 | Kevin | Tranberg | 54.9% | 27:06.6 | M 50-59 |
| 44 | Julia | Sobel | 54.2% | 27:45.1 | F 14-18 |
| 45 | Donna | Cramond | 53.5% | 39:44.1 | F 70-79 |
| 46 | Leora | Maltz-Leca | 53.4% | 30:36.5 | F 40-49 |
| 47 | Eliesia | Mendes | 52.5% | 28:20.1 | F 30-39 |
| 48 | Thomas | Sheehan | 52.4% | 34:55.9 | M 70-79 |
| 49 | Nadya | Korytnikova | 52.1% | 27:39.1 | F 30-39 |
| 50 | Marcos | Soto | 52.1% | 27:15.8 | M 40-49 |
| 51 | Rebecca | Neuwirth | 52.0% | 31:06.8 | F 40-49 |
| 52 | Becky | Grant | 51.7% | 29:00.0 | F 30-39 |
| 53 | Richard | Spears | 51.4% | 30:31.5 | M 50-59 |
| 54 | Mary | Giannotti | 51.3% | 33:05.3 | F 50-59 |
| 55 | Jahvon | Soto | 51.1% | 25:24.8 | M 19-29 |
| 56 | Amy | Migliore | 50.2% | 34:27.7 | F 50-59 |
| 57 | Philip | Ward | 50.2% | 30:10.7 | M 50-59 |
| 58 | Dan | Valen | 49.8% | 26:18.4 | M 30-39 |
| 59 | TJ | Westerberg | 49.2% | 28:00.2 | M 40-49 |
| 60 | Julia | Stepien | 47.8% | 30:08.9 | F 19-29 |
| 61 | Gerald | Patrick | 47.7% | 44:10.4 | M 80+ |
| 62 | Rachael | Konigsberg | 47.0% | 31:07.7 | F 30-39 |
| 63 | Daniel | Kats | 47.0% | 27:38.1 | M 19-29 |
| 64 | Dingtian | Zhang | 46.9% | 27:39.3 | M 30-39 |
| 65 | Tom | Clifford | 46.3% | 38:30.2 | M 70-79 |
| 66 | Henry | Rusinek | 46.2% | 40:42.1 | M 70-79 |
| 67 | Megan | Luizzi | 46.1% | 32:14.6 | F 30-39 |
| 68 | Lara | Wiley | 45.6% | 35:25.4 | F 10--13 |
| 69 | Geert | Rouwenhorst | 45.1% | 35:49.1 | M 60-69 |
| 70 | Alexandra | Rouwenhorst | 45.1% | 35:48.9 | F 10--13 |
| 71 | Susan | Kerley | 44.9% | 46:01.7 | F 70-79 |
| 72 | Crystal | Zamfino | 44.7% | 33:31.7 | F 30-39 |
| 73 | Katia | Tavarez | 44.5% | 32:36.7 | F 30-39 |
| 74 | Karen | Wang | 44.1% | 35:42.8 | F 40-49 |
| 75 | Leo | Jakubiak | 44.0% | 32:27.0 | M 10--13 |
| 76 | Charles | Matassa | 44.0% | 38:13.0 | M 60-69 |
| 77 | Christine | Lane | 43.5% | 34:27.7 | F 30-39 |
| 78 | Cristian | Pagano | 43.2% | 30:01.6 | M 19-29 |
| 79 | Kelli | Tucker | 43.2% | 33:21.4 | F 19-29 |
| 80 | Kelly | Blanchat | 43.2% | 34:11.1 | F 30-39 |
| 81 | Karen | Weiler | 42.5% | 40:17.2 | F 50-59 |
| 82 | John | DaPonte | 41.4% | 44:11.2 | M 70-79 |
| 83 | Celia | Waters | 41.3% | 34:53.2 | F 30-39 |
| 84 | Joyner | Mosley | 41.2% | 36:07.0 | M 50-59 |
| 85 | Robert | Garcia | 40.9% | 40:17.7 | M 60-69 |
| 86 | Jasmina | Krehic | 40.6% | 35:48.2 | F 14-18 |
| 87 | Jaslin | Johnson | 39.9% | 36:07.5 | F 19-29 |
| 88 | Aland | Beliard | 38.9% | 33:23.8 | M 19-29 |
| 89 | Kylee | Vitka-Lainey | 38.8% | 37:07.1 | F 19-29 |
| 90 | David | Backeberg | 38.3% | 35:26.1 | M 40-49 |
| 91 | Rosa | Perez | 38.0% | 37:52.7 | F 19-29 |
| 92 | Janna | White | 37.9% | 38:00.4 | F 19-29 |
| 93 | Andrew | Endres | 37.7% | 35:48.2 | M 14-18 |
| 94 | Natan | Bauman | 37.4% | 50:59.9 | M 70-79 |
| 95 | Flavia | Perez | 37.3% | 42:15.6 | F 40-49 |
| 96 | Jadine | Finch | 36.1% | 47:26.3 | F 50-59 |
| 97 | Zach | Druan | 35.1% | 36:55.6 | M 19-29 |
| 98 | Peter | Forchetti | 34.4% | 37:45.8 | M 19-29 |
| 99 | Kevin | Finch | 31.7% | 47:26.2 | M 50-59 |
| 100 | Michael | Kavey | 30.4% | 45:38.0 | M 40-49 |
| 101 | Sydney | Finch | 30.4% | 47:26.0 | F 19-29 |
| 102 | Kristin | Wetmore | 28.0% | 1:02:23 | F 50-59 |
| 103 | Zakarai | Schneider | 20.8% | 1:02:23 | M 19-29 |
1. Before the run

2. Fun run for kids

3. start of the main event

4. first at the finish line

5. best performers -- age adjusted

6. speeches and awards

7. after the run