The 20th annual Julia's Run for Children took place on Sunday, April 14, 2019. The day was sunny and mild. Yale Cross Campus was filled with runners, their families and volunteers, mingling and enjoying each other's company. Hot drinks and snacks were provided by Jonathan Edwards College and local business. Fred Havlicek and the crew of Physical Therapy & Sports Medicine offered free and highly praised massages. The music from PLR-99.1FM booth enhanced the atmosphere.
307 runners registered for the 4-mile run, and 29 children for the Fun Run. Fifteen-year-old Azaan Dawson won the race in just under 22 min. Seniors Janet Voelpert and Alex Silverman showed a truly exceptional performance. As in the past, John Hartley from England run privately in Julia's memory, this year while visiting Krakow, Poland.
Thanks to the professional work of John, Jody, and Kaitlin, all from JB Sports, the race went smoothly. Students from the Albertus College ΦΣΣ Sorority and LEAP staff volunteered for the event. Their eager help and smiling faces were priceless. As usual our dear friends and family: Marti, Terry, Rose, Vitek, Dafna, Julia, Hannah, Abram, Lucyna, Victor, Eugene, Genya, Melissa and Dustin did an outstanding job. Including $14,000 donation from JRMF, the total proceeds to LEAP from 2019 run were $21,600!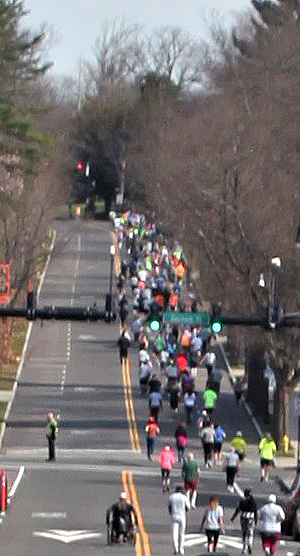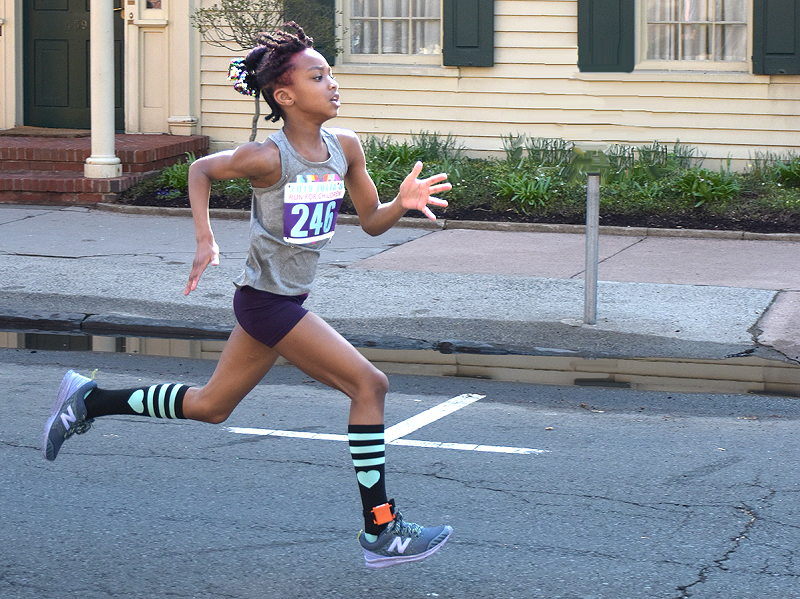 Julia's Run April 14, 2019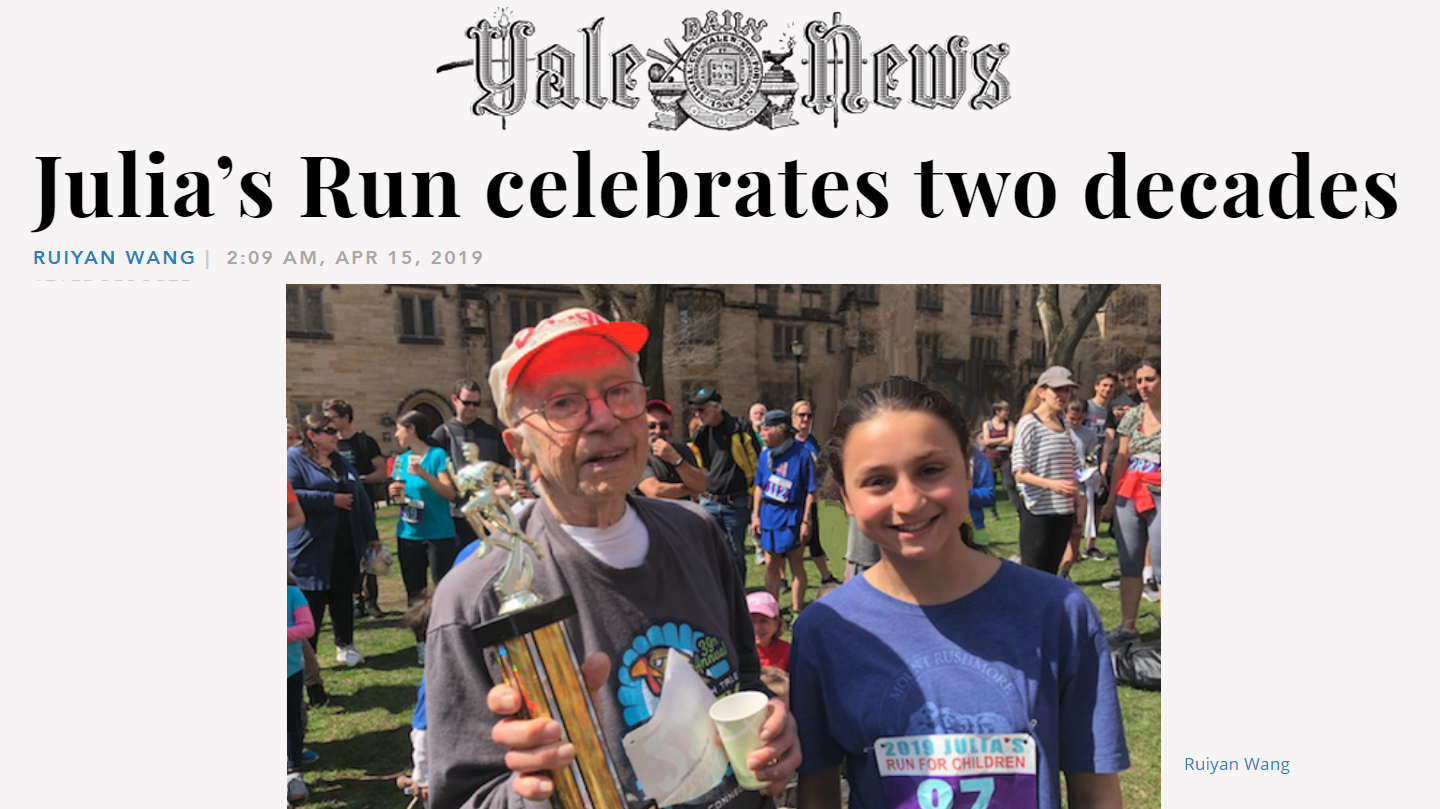 On Saturday, over 350 runners gathered on Cross Campus to participate in the 20th annual Julia's Run Road Race, a four-mile fundraising race and children's fun run in New Haven.
The fundraiser commemorates the life of Julia Rusinek, who passed away from an undetected heart condition during the summer before her senior year at Yale. To honor the memory of Rusinek, who was an avid runner and advocate for children, all proceeds from the race are donated to Leadership, Education and Athletics in Partnership — a New Haven nonprofit organization that provides free extracurricular programming to youth in under-resourced neighborhoods. Since the race's inception, Julia's Run has raised over $200,000 for LEAP. Last year, Julia's Run raised $17,700.
"We were wracking our brains with her friends and family for ways we can celebrate her life, something fitting to the tragedy of how soon it ended," said Vivian Sobel '95, Julia's older sister. "We have this run … as a memorial service and also in order to raise money for LEAP. Julia was really involved in working with kids and spent a lot of her time volunteering for causes to better the lives of children in many different ways."
According to Rachel Kline-Brown, director of development at LEAP, Julia's Run has been a significant source of support for the organization for the last two decades, particularly as LEAP faces increasingly severe budget cuts in its state funding. In 2014, the nonprofit received over $700,000 in state funds; in 2018, LEAP received $311,000. Kline-Brown told the News that LEAP organizers found out last month that their organization was entirely cut out of Gov. Ned Lamont's proposed budget for the next two years. Funds raised through Julia's Run will help ensure that LEAP can continue to serve the 1,300 children who benefit from its programming.
Beyond maintaining LEAP's current operations, donations from Julia's Run will also help the nonprofit develop new programs, according to Kline-Brown. For example, LEAP recently created a "pathway" program for girls interested in becoming lifeguards and swim instructors. The organization is also continuing to expand its computer learning center, where students learn robotics, coding and app development.
"The Rusinek family has been such a great supporter of LEAP over the years," Kline-Brown said. "And this run really makes a difference for enabling so many people from the community to come together. We had Yale students come, people coming from New York, people who are really serious runners, young people who have never done a run like this and little kids. It's really a cross-section of people from the community who come together for this event. It's really special."
The run is the result of a collaborative effort by Julia's family, LEAP and JB Sports, an event management company. Several local businesses, such as Donut Crazy, Ashley's Ice Cream and Starbucks provided food and donated prizes for a raffle at the end of the run. Jonathan Edwards College, which Julia was affiliated with during her time at Yale, also sponsored runners, publicized the fundraiser and secured spaces and food for the event. LEAP students and counselors conducted additional fundraising before the run as well, raising $1,500 for the organization.
This year, runners ranged from 4 years old to 94-year-old Herman, who has participated in the race since 2000, its inaugural year. Julia's parents, Henry and Roza Rusinek, as well as her sister and niece also attended. Sobel's youngest daughter, who is named after Julia, read one of Julia's poems before the award ceremony.
"It was a very nice atmosphere. The weather was beautiful, so I thought there was a special spirit and energy," said Roza Rusinek, Julia's mother. "Looking back, it seems like we really accomplished what we had set out to do. We wanted to have a sports event combined with raising money for underprivileged kids."
The racecourse of Julia's Run extends from Yale's Cross Campus to Edgerton Park via St. Ronan Street.
Ruiyan Wang    |    [email protected]
Results of 2019 4-mile run
| Place | First Name | Last Name | Time | Perf | Age | Sex | Pace | Div.Pl. |
| --- | --- | --- | --- | --- | --- | --- | --- | --- |
| 1 | Azaan | Dawson | 21:58 | 80.6% | 15 | M | 5:30 | 1 Σ |
| 2 | Jeffrey | Townsend | 23:57 | 77.4% | 47 | M | 6:00 | 1 |
| 3 | Alex | Evans | 24:12 | 70.2% | 24 | M | 6:03 | 1 |
| 4 | Mario | Longo | 25:01 | 74.1% | 47 | M | 6:16 | 2 |
| 5 | Matt | Santillo | 25:47 | 70.3% | 44 | M | 6:27 | 3 |
| 6 | Doug | Levens | 25:52 | 72.2% | 48 | M | 6:28 | 4 |
| 7 | Emma | Broderick | 25:55 | 72.7% | 26 | F | 6:29 | 1 Σ |
| 8 | Clancy | Emanuel | 27:08 | 62.6% | 25 | M | 6:47 | 2 |
| 9 | Rene | Burgos | 27:17 | 71.3% | 53 | M | 6:50 | 1 |
| 10 | Caroline | Smith | 27:19 | 69.0% | 26 | F | 6:50 | 1 |
| 11 | John | Castelluzzo | 27:44 | 62.6% | 38 | M | 6:56 | 1 |
| 12 | Katrina | Garry | 28:06 | 67.1% | 22 | F | 7:02 | 2 |
| 13 | Lauren | Stark | 28:06 | 70.2% | 40 | F | 7:02 | 1 |
| 14 | Tom | Fatone | 28:57 | 65.6% | 50 | M | 7:15 | 2 |
| 15 | Michael | Costen | 29:43 | 67.1% | 56 | M | 7:26 | 3 |
| 16 | Jose | Davila | 29:48 | 57.2% | 19 | M | 7:27 | 1 |
| 17 | Matthew | Fischer | 29:50 | 57.0% | 35 | M | 7:28 | 2 |
| 18 | Jeffrey | Gentes | 29:59 | 59.1% | 41 | M | 7:30 | 5 |
| 19 | Paul | Baldini | 29:59 | 61.8% | 47 | M | 7:30 | 6 |
| 20 | Tiffany | McGuire | 30:13 | 63.8% | 37 | F | 7:34 | 1 |
| 21 | Erin | Francese | 30:21 | 62.5% | 35 | F | 7:36 | 2 |
| 22 | Jessica | Nouws | 30:37 | 63.4% | 38 | F | 7:40 | 3 |
| 23 | Matt | Demaio | 30:53 | 60.0% | 47 | M | 7:44 | 7 |
| 24 | Carlos | Guzman | 31:22 | 54.2% | 33 | M | 7:51 | 3 |
| 25 | Gil | Liebrecht | 31:29 | 57.6% | 44 | M | 7:53 | 8 |
| 26 | Marc | Rinaldi | 31:32 | 57.9% | 45 | M | 7:53 | 9 |
| 27 | Leilani | Gibson | 31:34 | 65.5% | 12 | F | 7:54 | 1 |
| 28 | Shariff | Gibson | 31:34 | 57.0% | 43 | M | 7:54 | 10 |
| 29 | Eric | Patermo | 31:41 | 59.4% | 49 | M | 7:56 | 11 |
| 30 | Scott | Silver | 31:48 | 60.7% | 52 | M | 7:57 | 4 |
| 31 | Leah | Samson | 32:12 | 61.3% | 40 | F | 8:03 | 2 |
| 32 | Griffin | Berlin | 32:20 | 52.5% | 21 | M | 8:05 | 3 |
| 33 | Carlos | Huerta | 32:21 | 55.2% | 42 | M | 8:06 | 12 |
| 34 | James | Degregori | 32:37 | 59.7% | 53 | M | 8:10 | 5 |
| 35 | John | Dotson | 32:39 | 54.7% | 42 | M | 8:10 | 13 |
| 36 | Ethan | Ung | 32:42 | 54.6% | 42 | M | 8:11 | 14 |
| 37 | Sean | Croteau | 32:44 | 54.6% | 42 | M | 8:11 | 15 |
| 38 | Robert | Grande | 32:46 | 65.7% | 64 | M | 8:12 | 1 |
| 39 | Kaarlo | Moran | 32:55 | 56.8% | 48 | M | 8:14 | 16 |
| 40 | Dina | Frid | 33:03 | 60.2% | 41 | F | 8:16 | 3 |
| 41 | Melissa | Selca | 33:05 | 60.2% | 41 | F | 8:17 | 4 |
| 42 | Matthew | Goldenberg | 33:12 | 53.4% | 41 | M | 8:18 | 17 |
| 43 | Alex | ODonnel | 33:20 | 51.1% | 19 | M | 8:20 | 2 |
| 44 | Alex | Silverman | 33:25 | 71.6% | 73 | M | 8:22 | 1 |
| 45 | Steven | Ma | 33:35 | 51.1% | 18 | M | 8:24 | 3 |
| 46 | Melissa | Kearns | 33:40 | 59.1% | 41 | F | 8:25 | 5 |
| 47 | Janet | Voelpert | 33:57 | 80.6% | 71 | F | 8:30 | 1 |
| 48 | Andriy | Shevchuk | 33:59 | 51.1% | 38 | M | 8:30 | 4 |
| 49 | Kathleen | Vieira | 34:05 | 55.3% | 29 | F | 8:32 | 3 |
| 50 | Sebastian | Tsai | 34:08 | 50.2% | 18 | M | 8:32 | 4 |
| 51 | Gena | Coddentz | 34:19 | 54.9% | 27 | F | 8:35 | 4 |
| 52 | Liliana | Lucca | 34:27 | 54.7% | 34 | F | 8:37 | 4 |
| 53 | Jeremy | Sobel | 34:29 | 51.3% | 15 | M | 8:38 | 5 |
| 54 | Angel | Bruno | 34:36 | 57.7% | 56 | M | 8:39 | 6 |
| 55 | Derek | Tice-Brown | 34:40 | 52.3% | 44 | M | 8:40 | 18 |
| 56 | Mark | Tice | 35:03 | 52.1% | 45 | M | 8:46 | 19 |
| 57 | Robert | Tagliaferi | 35:12 | 56.7% | 56 | M | 8:48 | 7 |
| 58 | Cathalene | Tobias | 35:17 | 54.7% | 16 | F | 8:50 | 1 |
| 59 | Stacy | Levy | 35:20 | 61.5% | 51 | F | 8:50 | 1 |
| 60 | Brent | Stratton | 35:29 | 60.1% | 63 | M | 8:53 | 2 |
| 61 | Jessica | Jankowski | 35:34 | 53.0% | 25 | F | 8:54 | 5 |
| 62 | Erin | Gustafson | 35:37 | 56.3% | 42 | F | 8:55 | 6 |
| 63 | Peter | Zhou | 35:44 | 47.5% | 21 | M | 8:56 | 4 |
| 64 | Fernando | Chagollan | 35:46 | 54.4% | 53 | M | 8:57 | 8 |
| 65 | Josef | Bookert | 35:47 | 47.5% | 32 | M | 8:57 | 5 |
| 66 | Adrianna | Accioly | 35:54 | 53.3% | 17 | F | 8:59 | 2 |
| 67 | Marc | Audet | 35:55 | 57.6% | 60 | M | 8:59 | 3 |
| 68 | Louis | Giancola | 36:00 | 49.3% | 41 | M | 9:00 | 20 |
| 69 | Vivian | Sobel | 36:02 | 57.1% | 45 | F | 9:01 | 7 |
| 70 | Emily | Wang | 36:07 | 56.0% | 43 | F | 9:02 | 8 |
| 71 | Mary | Zorzanello | 36:11 | 68.1% | 63 | F | 9:03 | 1 |
| 72 | Wayne | Theriault | 36:19 | 63.4% | 70 | M | 9:05 | 2 |
| 73 | Eugene | Frid | 36:26 | 60.4% | 66 | M | 9:07 | 4 |
| 74 | John | Selca | 36:27 | 48.0% | 39 | M | 9:07 | 6 |
| 75 | Hunter | Fluegel | 36:31 | 46.5% | 21 | M | 9:08 | 5 |
| 76 | Uliana | Rymar | 36:42 | 51.4% | 30 | F | 9:11 | 5 |
| 77 | Joel | MacClaren | 36:56 | 57.7% | 63 | M | 9:14 | 5 |
| 78 | Assata | Dawson | 36:59 | 54.6% | 13 | F | 9:15 | 3 |
| 79 | Jahvon | Soto | 37:27 | 45.4% | 21 | M | 9:22 | 6 |
| 80 | Neil | Conley | 37:28 | 51.0% | 17 | F | 9:22 | 4 |
| 81 | Francesco | Lascari | 37:33 | 46.9% | 40 | M | 9:24 | 21 |
| 82 | Rebecca | Newirth | 37:35 | 54.8% | 45 | F | 9:24 | 9 |
| 83 | Clint | Morrison | 37:49 | 60.8% | 70 | M | 9:28 | 3 |
| 84 | Sarah | Galvanitownsend | 37:54 | 54.5% | 12 | F | 9:29 | 2 |
| 85 | Jaylen | Pittman | 38:15 | 49.3% | 21 | M | 9:34 | 7 |
| 86 | Stella | Woo | 38:15 | 44.4% | 23 | F | 9:34 | 6 |
| 87 | Nicholas | Dagorlo | 38:19 | 49.2% | 49 | M | 9:35 | 22 |
| 88 | Jennifer | Bagnoli | 38:23 | 55.6% | 49 | F | 9:36 | 10 |
| 89 | Randall | Rode | 38:29 | 52.8% | 58 | M | 9:38 | 9 |
| 90 | Cameron | Lidestri | 38:31 | 51.8% | 56 | M | 9:38 | 10 |
| 91 | Tammy | Harrell | 38:36 | 57.4% | 53 | F | 9:39 | 2 |
| 92 | Meg | Budries | 38:39 | 48.8% | 28 | F | 9:40 | 7 |
| 93 | Timothy | Lembo | 38:39 | 44.0% | 33 | M | 9:40 | 7 |
| 94 | Laura | Galvin | 38:51 | 55.4% | 50 | F | 9:43 | 3 |
| 95 | MaryLou | Zocher | 38:52 | 64.9% | 65 | F | 9:43 | 2 |
| 96 | Steve | Germaine | 38:57 | 53.6% | 61 | M | 9:45 | 6 |
| 97 | George | Chaffin | 39:28 | 43.0% | 23 | M | 9:52 | 8 |
| 98 | Bonnie | Estrom | 39:32 | 47.7% | 28 | F | 9:53 | 8 |
| 99 | Carol | Chiappone | 39:41 | 59.3% | 59 | F | 9:56 | 4 |
| 100 | Ariella | Sobel | 40:04 | 50.4% | 13 | F | 10:01 | 5 |
| 101 | Jesus | Morales | 40:10 | 42.3% | 24 | M | 10:03 | 9 |
| 102 | Shannon | Flynn | 40:28 | 46.2% | 48 | M | 10:07 | 23 |
| 103 | Liz | Ditman | 40:29 | 49.6% | 42 | F | 10:08 | 11 |
| 104 | Mark | Petrone | 40:44 | 46.6% | 50 | M | 10:11 | 11 |
| 105 | Patrick | Waters | 40:51 | 41.6% | 31 | M | 10:13 | 8 |
| 106 | Wally | Delvecchio | 41:00 | 53.0% | 51 | F | 10:15 | 5 |
| 107 | Stacy | Cacace | 41:12 | 00.0% | | F | 10:18 | |
| 108 | Evan | Galvinitownsend | 41:17 | 49.8% | 9 | M | 10:20 | 1 |
| 109 | Tina | Salsbury | 41:18 | 48.2% | 41 | F | 10:20 | 12 |
| 110 | Yonas | Takele | 41:18 | 41.1% | 23 | M | 10:20 | 10 |
| 111 | Heather | Hinckley | 41:27 | 51.0% | 48 | F | 10:22 | 13 |
| 112 | Amanda | Zilinskas | 41:36 | 45.3% | 27 | F | 10:24 | 9 |
| 113 | Fred | Ginsberg | 41:38 | 52.8% | 66 | M | 10:25 | 7 |
| 114 | William | McGrath | 41:44 | 52.1% | 65 | M | 10:26 | 8 |
| 115 | Dawn | Jenci | 41:49 | 46.8% | 39 | F | 10:28 | 6 |
| 116 | Nicole | Gonzalez | 41:53 | 47.1% | 40 | F | 10:29 | 14 |
| 117 | David | Gillick | 42:05 | 40.4% | 24 | M | 10:32 | 11 |
| 118 | Jenny | Ruby | 42:56 | 44.2% | 35 | F | 10:44 | 7 |
| 119 | Christina | Pavlak | 43:04 | 46.6% | 42 | F | 10:46 | 15 |
| 120 | Donna | Chow | 43:18 | 43.5% | 24 | F | 10:50 | 10 |
| 121 | Amy | Lowenstein | 43:30 | 45.4% | 40 | F | 10:53 | 16 |
| 122 | Armando | Pereira | 43:36 | 48.4% | 62 | M | 10:54 | 9 |
| 123 | Stephanie | Vanhatten | 43:38 | 43.8% | 36 | F | 10:55 | 8 |
| 124 | Erik | Aguilar | 43:39 | 39.0% | 19 | M | 10:55 | 6 |
| 125 | Charles | Matassa | 43:47 | 48.7% | 63 | M | 10:57 | 10 |
| 126 | Morgan | Ashby | 44:00 | 43.0% | 19 | F | 11:00 | 6 |
| 127 | Kaitlyn | Ellsworth | 44:09 | 42.7% | 20 | F | 11:03 | 11 |
| 128 | Bobby | Garcia | 44:20 | 47.1% | 61 | M | 11:05 | 11 |
| 129 | Pamela | Scroggins | 44:39 | 48.7% | 51 | F | 11:10 | 6 |
| 130 | Celia | Waters | 44:57 | 41.9% | 30 | F | 11:15 | 9 |
| 131 | Ariana | Unger | 45:05 | 41.8% | 23 | F | 11:17 | 12 |
| 132 | Zoe | Mills | 45:05 | 41.8% | 34 | F | 11:17 | 10 |
| 133 | Steve | Strom | 45:07 | 49.9% | 68 | M | 11:17 | 12 |
| 134 | Carolyn | May | 45:12 | 43.3% | 39 | F | 11:18 | 11 |
| 135 | Lori | Dellapietra | 45:12 | 47.6% | 50 | F | 11:18 | 7 |
| 136 | Patrick | Reilly | 45:15 | 42.3% | 51 | M | 11:19 | 12 |
| 137 | Dani | Kessler | 45:16 | 41.6% | 25 | F | 11:19 | 13 |
| 138 | Jonathan | Yuen | 45:26 | 54.1% | 75 | M | 11:22 | 4 |
| 139 | Lindsey | Leger | 45:28 | 41.5% | 29 | F | 11:22 | 14 |
| 140 | Brennah | Halsey | 45:43 | 41.2% | 23 | F | 11:26 | 15 |
| 141 | Aron | Unger | 45:45 | 37.1% | 22 | M | 11:27 | 12 |
| 142 | Sam | Unger | 45:45 | 37.1% | 20 | M | 11:27 | 13 |
| 143 | Erin | Montaine | 46:05 | 40.9% | 24 | F | 11:32 | 16 |
| 144 | Diane | Kosiorek | 46:08 | 44.6% | 45 | F | 11:32 | 17 |
| 145 | Danielle | Ursone | 46:12 | 40.8% | 23 | F | 11:33 | 17 |
| 146 | Klaire | Tan | 46:21 | 40.7% | 21 | F | 11:36 | 18 |
| 147 | Eric | Byrd | 46:35 | 36.5% | 24 | M | 11:39 | 14 |
| 148 | Hannah | Lee | 46:36 | 40.5% | 25 | F | 11:39 | 19 |
| 149 | Tyrease | Pouncey | 46:38 | 37.1% | 17 | M | 11:40 | 7 |
| 150 | Roberta | Durant | 46:44 | 45.6% | 49 | F | 11:41 | 18 |
| 151 | John | Mager | 46:50 | 41.5% | 53 | M | 11:43 | 13 |
| 152 | Shannon | Powers | 46:57 | 41.4% | 38 | F | 11:45 | 12 |
| 153 | Lin | Young | 47:01 | 45.0% | 48 | F | 11:46 | 19 |
| 154 | Edward | Riordan | 47:02 | 45.8% | 64 | M | 11:46 | 13 |
| 155 | Karen | Wang | 47:24 | 42.3% | 42 | F | 11:51 | 20 |
| 156 | Lee | Bradley | 47:24 | 52.6% | 76 | M | 11:51 | 5 |
| 157 | Kelly | Munkwitz | 47:42 | 40.1% | 36 | F | 11:56 | 13 |
| 158 | Deborah | Valin | 47:44 | 45.5% | 51 | F | 11:56 | 8 |
| 159 | Stacy | Nobles | 48:14 | 43.1% | 46 | F | 12:04 | 21 |
| 160 | Carole | Goldberg | 48:42 | 58.8% | 74 | F | 12:11 | 2 |
| 161 | Michael | Kavey | 48:47 | 36.4% | 41 | M | 12:12 | 24 |
| 162 | Leo | Jakubiak | 48:51 | 42.1% | 9 | M | 12:13 | 2 |
| 163 | Paige | Bartels | 49:06 | 39.9% | 39 | F | 12:17 | 14 |
| 164 | Amelea | Lowery | 50:20 | 37.5% | 29 | F | 12:35 | 20 |
| 165 | Joseph | Steele | 50:38 | 43.0% | 65 | M | 12:40 | 14 |
| 166 | Andrea | Kovacs | 50:39 | 43.3% | 52 | F | 12:40 | 9 |
| 167 | Susan | Reilly | 50:53 | 42.7% | 51 | F | 12:44 | 10 |
| 168 | Matthew | Ruggeri | 51:16 | 33.1% | 31 | M | 12:49 | 9 |
| 169 | Henry | Rusinek | 51:17 | 46.0% | 72 | M | 12:50 | 6 |
| 170 | Paul | Garlinghouse | 51:31 | 38.4% | 55 | M | 12:53 | 14 |
| 171 | Gretchen | Yelmini | 52:39 | 35.8% | 34 | F | 13:10 | 15 |
| 172 | Donna | Warren | 52:49 | 40.8% | 50 | F | 13:13 | 11 |
| 173 | Valeria | Yanqui | 53:35 | 35.7% | 17 | F | 13:24 | 7 |
| 174 | Omar | Yanqui | 53:38 | 33.8% | 44 | M | 13:25 | 25 |
| 175 | Kristian | Johnson | 54:33 | 31.8% | 38 | M | 13:39 | 10 |
| 176 | Anna | Johnson | 54:33 | 34.6% | 24 | F | 13:39 | 21 |
| 177 | Sylvia | Centeno | 54:49 | 36.0% | 40 | F | 13:43 | 22 |
| 178 | Elyse | Aronauer | 54:50 | 50.6% | 72 | F | 13:43 | 3 |
| 179 | Dianalys | Bonilla | 55:21 | 34.3% | 18 | F | 13:50 | 8 |
| 180 | Elaine | Sein | 55:50 | 38.2% | 49 | F | 13:58 | 23 |
| 181 | Nate | Smalls | 55:50 | 34.0% | 50 | M | 13:58 | 15 |
| 182 | Maria | Huertas | 55:58 | 44.5% | 64 | F | 14:00 | 3 |
| 183 | William | Long | 57:21 | 39.2% | 68 | M | 14:21 | 15 |
| 184 | Patty | Carton | 58:31 | 54.4% | 80 | F | 14:38 | 7 |
| 185 | Gerald | Patrick | 58:31 | 44.6% | 79 | M | 14:38 | 4 |
| 186 | Eileen | Osullivan | 60:31 | 35.6% | 50 | F | 15:08 | 12 |
| 187 | Peter | Noble | 60:34 | 32.4% | 54 | M | 15:09 | 16 |
| 188 | Rachell | Vargas | 60:34 | 32.7% | 14 | F | 15:09 | 9 |
| 189 | Jean | Lamont | 63:13 | 45.3% | 74 | F | 15:48 | 5 |
| 190 | Mandy | Perkins | 64:02 | 30.8% | 40 | F | 16:01 | 24 |
| 191 | Janet | Cunningham | 64:05 | 31.1% | 41 | F | 16:02 | 25 |
| 192 | Leslie | Stasko | 64:05 | 31.1% | 41 | F | 16:02 | 26 |
| 193 | Lily | Barragan | 64:27 | 29.2% | 20 | F | 16:07 | 22 |
| 194 | Joanna | Barragan | 64:29 | 29.2% | 23 | F | 16:08 | 23 |
| 195 | Nelida | Ramos-Torres | 65:06 | 38.8% | 65 | F | 16:17 | 4 |
| 196 | Candice | Paulsen | 70:47 | 26.8% | 35 | F | 17:42 | 16 |
| 197 | Kevin | Redline | 75:11 | 22.6% | 23 | M | 18:48 | 15 |
| 198 | David | Redline | 75:12 | 25.9% | 53 | M | 18:48 | 17 |
| 199 | Kyler | Derissi | 75:12 | 25.1% | 24 | F | 18:48 | 24 |
| 200 | Lyndi | Szabo | 77:04 | 24.5% | 26 | F | 19:16 | 25 |
| 201 | Paige | Williams | 77:04 | 24.5% | 20 | F | 19:16 | 26 |
| 202 | Marisa | Dragone | 77:06 | 27.9% | 50 | F | 19:17 | 13 |
| 203 | Neil | Kavey | 78:14 | 31.4% | 75 | M | 19:34 | 8 |
| 204 | Maria | Dynia | 78:36 | 29.3% | 57 | F | 19:39 | 14 |
| 205 | Gwen | Haley | 78:36 | 38.3% | 77 | F | 19:39 | 6 |
| 206 | Samantha | Chuck | 78:40 | 24.0% | 31 | F | 19:40 | 17 |
| 207 | Melissa | Nadeau | 78:41 | 24.7% | 38 | F | 19:41 | 18 |
| 208 | Rose | Szatkowski | 78:50 | 35.2% | 72 | F | 19:43 | 7 |
| 209 | Hannah | Poczter | 78:50 | 00.0% | | F | 19:43 | |
| 210 | Drew | Cucuzza | 83:22 | 23.1% | 52 | M | 20:51 | 18 |
| 211 | Kathleen | Barone | 84:33 | 28.5% | 61 | F | 21:09 | 5 |
| 212 | Herman | Bershtein | 84:40 | 45.9% | 94 | M | 21:10 | 9 |
| 213 | Aviva | Poczter | 91:58 | 22.4% | 45 | F | 23:00 | 27 |
| 214 | Abram | Poczter | 92:01 | 00.0% | | M | 23:01 | |
| | | | | | | | | January 1, 1970 |
| | | | | | | | | January 1, 1970 |
| | | | | | | | | January 1, 1970 |
Julia's run 2019 - best performance
Runners are listed in order of their performance level, adjusted for age and sex. The 4-mile run time of each runner is compared to the recent world record for corresponding age and sex. Records are based on "Masters Age Graded Tables" compiled by the World Association of Veteran Athletes. The 4-mile records are interpolated from the records achieved in 5k (~3.1miles) and 8k (~4.9miles). The performance represent approximately:
over 90% - world class
over 80% - national class
over 70% - regional class
over 60% - local class
| Place | First Name | Last Name | Perf | Time | Pace | Age | Sex |
| --- | --- | --- | --- | --- | --- | --- | --- |
| 1 | Azaan | Dawson | 80.6% | 21:58 | 5:30 | 15 | M |
| 2 | Janet | Voelpert | 80.6% | 33:57 | 8:30 | 71 | F |
| 3 | Jeffrey | Townsend | 77.4% | 23:57 | 6:00 | 47 | M |
| 4 | Mario | Longo | 74.1% | 25:01 | 6:16 | 47 | M |
| 5 | Emma | Broderick | 72.7% | 25:55 | 6:29 | 26 | F |
| 6 | Doug | Levens | 72.2% | 25:52 | 6:28 | 48 | M |
| 7 | Alex | Silverman | 71.6% | 33:25 | 8:22 | 73 | M |
| 8 | Rene | Burgos | 71.3% | 27:17 | 6:50 | 53 | M |
| 9 | Matt | Santillo | 70.3% | 25:47 | 6:27 | 44 | M |
| 10 | Alex | Evans | 70.2% | 24:12 | 6:03 | 24 | M |
| 11 | Lauren | Stark | 70.2% | 28:06 | 7:02 | 40 | F |
| 12 | Caroline | Smith | 69.0% | 27:19 | 6:50 | 26 | F |
| 13 | Mary | Zorzanello | 68.1% | 36:11 | 9:03 | 63 | F |
| 14 | Katrina | Garry | 67.1% | 28:06 | 7:02 | 22 | F |
| 15 | Michael | Costen | 67.1% | 29:43 | 7:26 | 56 | M |
| 16 | Robert | Grande | 65.7% | 32:46 | 8:12 | 64 | M |
| 17 | Tom | Fatone | 65.6% | 28:57 | 7:15 | 50 | M |
| 18 | Leilani | Gibson | 65.5% | 31:34 | 7:54 | 12 | F |
| 19 | MaryLou | Zocher | 64.9% | 38:52 | 9:43 | 65 | F |
| 20 | Tiffany | McGuire | 63.8% | 30:13 | 7:34 | 37 | F |
| 21 | Jessica | Nouws | 63.4% | 30:37 | 7:40 | 38 | F |
| 22 | Wayne | Theriault | 63.4% | 36:19 | 9:05 | 70 | M |
| 23 | Clancy | Emanuel | 62.6% | 27:08 | 6:47 | 25 | M |
| 24 | John | Castelluzzo | 62.6% | 27:44 | 6:56 | 38 | M |
| 25 | Erin | Francese | 62.5% | 30:21 | 7:36 | 35 | F |
| 26 | Paul | Baldini | 61.8% | 29:59 | 7:30 | 47 | M |
| 27 | Stacy | Levy | 61.5% | 35:20 | 8:50 | 51 | F |
| 28 | Leah | Samson | 61.3% | 32:12 | 8:03 | 40 | F |
| 29 | Clint | Morrison | 60.8% | 37:49 | 9:28 | 70 | M |
| 30 | Scott | Silver | 60.7% | 31:48 | 7:57 | 52 | M |
| 31 | Eugene | Frid | 60.4% | 36:26 | 9:07 | 66 | M |
| 32 | Dina | Frid | 60.2% | 33:03 | 8:16 | 41 | F |
| 33 | Melissa | Selca | 60.2% | 33:05 | 8:17 | 41 | F |
| 34 | Brent | Stratton | 60.1% | 35:29 | 8:53 | 63 | M |
| 35 | Matt | Demaio | 60.0% | 30:53 | 7:44 | 47 | M |
| 36 | James | Degregori | 59.7% | 32:37 | 8:10 | 53 | M |
| 37 | Eric | Patermo | 59.4% | 31:41 | 7:56 | 49 | M |
| 38 | Carol | Chiappone | 59.3% | 39:41 | 9:56 | 59 | F |
| 39 | Jeffrey | Gentes | 59.1% | 29:59 | 7:30 | 41 | M |
| 40 | Melissa | Kearns | 59.1% | 33:40 | 8:25 | 41 | F |
| 41 | Carole | Goldberg | 58.8% | 48:42 | 12:11 | 74 | F |
| 42 | Marc | Rinaldi | 57.9% | 31:32 | 7:53 | 45 | M |
| 43 | Angel | Bruno | 57.7% | 34:36 | 8:39 | 56 | M |
| 44 | Joel | MacClaren | 57.7% | 36:56 | 9:14 | 63 | M |
| 45 | Gil | Liebrecht | 57.6% | 31:29 | 7:53 | 44 | M |
| 46 | Marc | Audet | 57.6% | 35:55 | 8:59 | 60 | M |
| 47 | Tammy | Harrell | 57.4% | 38:36 | 9:39 | 53 | F |
| 48 | Jose | Davila | 57.2% | 29:48 | 7:27 | 19 | M |
| 49 | Vivian | Sobel | 57.1% | 36:02 | 9:01 | 45 | F |
| 50 | Matthew | Fischer | 57.0% | 29:50 | 7:28 | 35 | M |
| 51 | Shariff | Gibson | 57.0% | 31:34 | 7:54 | 43 | M |
| 52 | Kaarlo | Moran | 56.8% | 32:55 | 8:14 | 48 | M |
| 53 | Robert | Tagliaferi | 56.7% | 35:12 | 8:48 | 56 | M |
| 54 | Erin | Gustafson | 56.3% | 35:37 | 8:55 | 42 | F |
| 55 | Emily | Wang | 56.0% | 36:07 | 9:02 | 43 | F |
| 56 | Jennifer | Bagnoli | 55.6% | 38:23 | 9:36 | 49 | F |
| 57 | Laura | Galvin | 55.4% | 38:51 | 9:43 | 50 | F |
| 58 | Kathleen | Vieira | 55.3% | 34:05 | 8:32 | 29 | F |
| 59 | Carlos | Huerta | 55.2% | 32:21 | 8:06 | 42 | M |
| 60 | Gena | Coddentz | 54.9% | 34:19 | 8:35 | 27 | F |
| 61 | Rebecca | Newirth | 54.8% | 37:35 | 9:24 | 45 | F |
| 62 | John | Dotson | 54.7% | 32:39 | 8:10 | 42 | M |
| 63 | Liliana | Lucca | 54.7% | 34:27 | 8:37 | 34 | F |
| 64 | Cathalene | Tobias | 54.7% | 35:17 | 8:50 | 16 | F |
| 65 | Ethan | Ung | 54.6% | 32:42 | 8:11 | 42 | M |
| 66 | Sean | Croteau | 54.6% | 32:44 | 8:11 | 42 | M |
| 67 | Assata | Dawson | 54.6% | 36:59 | 9:15 | 13 | F |
| 68 | Sarah | Galvanitownsend | 54.5% | 37:54 | 9:29 | 12 | F |
| 69 | Fernando | Chagollan | 54.4% | 35:46 | 8:57 | 53 | M |
| 70 | Patty | Carton | 54.4% | 58:31 | 14:38 | 80 | F |
| 71 | Carlos | Guzman | 54.2% | 31:22 | 7:51 | 33 | M |
| 72 | Jonathan | Yuen | 54.1% | 45:26 | 11:22 | 75 | M |
| 73 | Steve | Germaine | 53.6% | 38:57 | 9:45 | 61 | M |
| 74 | Matthew | Goldenberg | 53.4% | 33:12 | 8:18 | 41 | M |
| 75 | Adrianna | Accioly | 53.3% | 35:54 | 8:59 | 17 | F |
| 76 | Jessica | Jankowski | 53.0% | 35:34 | 8:54 | 25 | F |
| 77 | Wally | Delvecchio | 53.0% | 41:00 | 10:15 | 51 | F |
| 78 | Randall | Rode | 52.8% | 38:29 | 9:38 | 58 | M |
| 79 | Fred | Ginsberg | 52.8% | 41:38 | 10:25 | 66 | M |
| 80 | Lee | Bradley | 52.6% | 47:24 | 11:51 | 76 | M |
| 81 | Griffin | Berlin | 52.5% | 32:20 | 8:05 | 21 | M |
| 82 | Derek | Tice-Brown | 52.3% | 34:40 | 8:40 | 44 | M |
| 83 | Mark | Tice | 52.1% | 35:03 | 8:46 | 45 | M |
| 84 | William | McGrath | 52.1% | 41:44 | 10:26 | 65 | M |
| 85 | Cameron | Lidestri | 51.8% | 38:31 | 9:38 | 56 | M |
| 86 | Uliana | Rymar | 51.4% | 36:42 | 9:11 | 30 | F |
| 87 | Jeremy | Sobel | 51.3% | 34:29 | 8:38 | 15 | M |
| 88 | Alex | ODonnel | 51.1% | 33:20 | 8:20 | 19 | M |
| 89 | Steven | Ma | 51.1% | 33:35 | 8:24 | 18 | M |
| 90 | Andriy | Shevchuk | 51.1% | 33:59 | 8:30 | 38 | M |
| 91 | Neil | Conley | 51.0% | 37:28 | 9:22 | 17 | F |
| 92 | Heather | Hinckley | 51.0% | 41:27 | 10:22 | 48 | F |
| 93 | Elyse | Aronauer | 50.6% | 54:50 | 13:43 | 72 | F |
| 94 | Ariella | Sobel | 50.4% | 40:04 | 10:01 | 13 | F |
| 95 | Sebastian | Tsai | 50.2% | 34:08 | 8:32 | 18 | M |
| 96 | Steve | Strom | 49.9% | 45:07 | 11:17 | 68 | M |
| 97 | Evan | Galvinitownsend | 49.8% | 41:17 | 10:20 | 9 | M |
| 98 | Liz | Ditman | 49.6% | 40:29 | 10:08 | 42 | F |
| 99 | Louis | Giancola | 49.3% | 36:00 | 9:00 | 41 | M |
| 100 | Jaylen | Pittman | 49.3% | 38:15 | 9:34 | 21 | M |
| 101 | Nicholas | Dagorlo | 49.2% | 38:19 | 9:35 | 49 | M |
| 102 | Meg | Budries | 48.8% | 38:39 | 9:40 | 28 | F |
| 103 | Charles | Matassa | 48.7% | 43:47 | 10:57 | 63 | M |
| 104 | Pamela | Scroggins | 48.7% | 44:39 | 11:10 | 51 | F |
| 105 | Armando | Pereira | 48.4% | 43:36 | 10:54 | 62 | M |
| 106 | Tina | Salsbury | 48.2% | 41:18 | 10:20 | 41 | F |
| 107 | John | Selca | 48.0% | 36:27 | 9:07 | 39 | M |
| 108 | Bonnie | Estrom | 47.7% | 39:32 | 9:53 | 28 | F |
| 109 | Lori | Dellapietra | 47.6% | 45:12 | 11:18 | 50 | F |
| 110 | Peter | Zhou | 47.5% | 35:44 | 8:56 | 21 | M |
| 111 | Josef | Bookert | 47.5% | 35:47 | 8:57 | 32 | M |
| 112 | Nicole | Gonzalez | 47.1% | 41:53 | 10:29 | 40 | F |
| 113 | Bobby | Garcia | 47.1% | 44:20 | 11:05 | 61 | M |
| 114 | Francesco | Lascari | 46.9% | 37:33 | 9:24 | 40 | M |
| 115 | Dawn | Jenci | 46.8% | 41:49 | 10:28 | 39 | F |
| 116 | Mark | Petrone | 46.6% | 40:44 | 10:11 | 50 | M |
| 117 | Christina | Pavlak | 46.6% | 43:04 | 10:46 | 42 | F |
| 118 | Hunter | Fluegel | 46.5% | 36:31 | 9:08 | 21 | M |
| 119 | Shannon | Flynn | 46.2% | 40:28 | 10:07 | 48 | M |
| 120 | Henry | Rusinek | 46.0% | 51:17 | 12:50 | 72 | M |
| 121 | Herman | Bershtein | 45.9% | 84:40 | 21:10 | 94 | M |
| 122 | Edward | Riordan | 45.8% | 47:02 | 11:46 | 64 | M |
| 123 | Roberta | Durant | 45.6% | 46:44 | 11:41 | 49 | F |
| 124 | Deborah | Valin | 45.5% | 47:44 | 11:56 | 51 | F |
| 125 | Jahvon | Soto | 45.4% | 37:27 | 9:22 | 21 | M |
| 126 | Amy | Lowenstein | 45.4% | 43:30 | 10:53 | 40 | F |
| 127 | Amanda | Zilinskas | 45.3% | 41:36 | 10:24 | 27 | F |
| 128 | Jean | Lamont | 45.3% | 63:13 | 15:48 | 74 | F |
| 129 | Lin | Young | 45.0% | 47:01 | 11:46 | 48 | F |
| 130 | Diane | Kosiorek | 44.6% | 46:08 | 11:32 | 45 | F |
| 131 | Gerald | Patrick | 44.6% | 58:31 | 14:38 | 79 | M |
| 132 | Maria | Huertas | 44.5% | 55:58 | 14:00 | 64 | F |
| 133 | Stella | Woo | 44.4% | 38:15 | 9:34 | 23 | F |
| 134 | Jenny | Ruby | 44.2% | 42:56 | 10:44 | 35 | F |
| 135 | Timothy | Lembo | 44.0% | 38:39 | 9:40 | 33 | M |
| 136 | Stephanie | Vanhatten | 43.8% | 43:38 | 10:55 | 36 | F |
| 137 | Donna | Chow | 43.5% | 43:18 | 10:50 | 24 | F |
| 138 | Carolyn | May | 43.3% | 45:12 | 11:18 | 39 | F |
| 139 | Andrea | Kovacs | 43.3% | 50:39 | 12:40 | 52 | F |
| 140 | Stacy | Nobles | 43.1% | 48:14 | 12:04 | 46 | F |
| 141 | George | Chaffin | 43.0% | 39:28 | 9:52 | 23 | M |
| 142 | Morgan | Ashby | 43.0% | 44:00 | 11:00 | 19 | F |
| 143 | Joseph | Steele | 43.0% | 50:38 | 12:40 | 65 | M |
| 144 | Kaitlyn | Ellsworth | 42.7% | 44:09 | 11:03 | 20 | F |
| 145 | Susan | Reilly | 42.7% | 50:53 | 12:44 | 51 | F |
| 146 | Jesus | Morales | 42.3% | 40:10 | 10:03 | 24 | M |
| 147 | Patrick | Reilly | 42.3% | 45:15 | 11:19 | 51 | M |
| 148 | Karen | Wang | 42.3% | 47:24 | 11:51 | 42 | F |
| 149 | Leo | Jakubiak | 42.1% | 48:51 | 12:13 | 9 | M |
| 150 | Celia | Waters | 41.9% | 44:57 | 11:15 | 30 | F |
| 151 | Ariana | Unger | 41.8% | 45:05 | 11:17 | 23 | F |
| 152 | Zoe | Mills | 41.8% | 45:05 | 11:17 | 34 | F |
| 153 | Patrick | Waters | 41.6% | 40:51 | 10:13 | 31 | M |
| 154 | Dani | Kessler | 41.6% | 45:16 | 11:19 | 25 | F |
| 155 | Lindsey | Leger | 41.5% | 45:28 | 11:22 | 29 | F |
| 156 | John | Mager | 41.5% | 46:50 | 11:43 | 53 | M |
| 157 | Shannon | Powers | 41.4% | 46:57 | 11:45 | 38 | F |
| 158 | Brennah | Halsey | 41.2% | 45:43 | 11:26 | 23 | F |
| 159 | Yonas | Takele | 41.1% | 41:18 | 10:20 | 23 | M |
| 160 | Erin | Montaine | 40.9% | 46:05 | 11:32 | 24 | F |
| 161 | Danielle | Ursone | 40.8% | 46:12 | 11:33 | 23 | F |
| 162 | Donna | Warren | 40.8% | 52:49 | 13:13 | 50 | F |
| 163 | Klaire | Tan | 40.7% | 46:21 | 11:36 | 21 | F |
| 164 | Hannah | Lee | 40.5% | 46:36 | 11:39 | 25 | F |
| 165 | David | Gillick | 40.4% | 42:05 | 10:32 | 24 | M |
| 166 | Kelly | Munkwitz | 40.1% | 47:42 | 11:56 | 36 | F |
| 167 | Paige | Bartels | 39.9% | 49:06 | 12:17 | 39 | F |
| 168 | William | Long | 39.2% | 57:21 | 14:21 | 68 | M |
| 169 | Erik | Aguilar | 39.0% | 43:39 | 10:55 | 19 | M |
| 170 | Nelida | Ramos-Torres | 38.8% | 65:06 | 16:17 | 65 | F |
| 171 | Paul | Garlinghouse | 38.4% | 51:31 | 12:53 | 55 | M |
| 172 | Gwen | Haley | 38.3% | 78:36 | 19:39 | 77 | F |
| 173 | Elaine | Sein | 38.2% | 55:50 | 13:58 | 49 | F |
| 174 | Amelea | Lowery | 37.5% | 50:20 | 12:35 | 29 | F |
| 175 | Aron | Unger | 37.1% | 45:45 | 11:27 | 22 | M |
| 176 | Sam | Unger | 37.1% | 45:45 | 11:27 | 20 | M |
| 177 | Tyrease | Pouncey | 37.1% | 46:38 | 11:40 | 17 | M |
| 178 | Eric | Byrd | 36.5% | 46:35 | 11:39 | 24 | M |
| 179 | Michael | Kavey | 36.4% | 48:47 | 12:12 | 41 | M |
| 180 | Sylvia | Centeno | 36.0% | 54:49 | 13:43 | 40 | F |
| 181 | Gretchen | Yelmini | 35.8% | 52:39 | 13:10 | 34 | F |
| 182 | Valeria | Yanqui | 35.7% | 53:35 | 13:24 | 17 | F |
| 183 | Eileen | Osullivan | 35.6% | 60:31 | 15:08 | 50 | F |
| 184 | Rose | Szatkowski | 35.2% | 78:50 | 19:43 | 72 | F |
| 185 | Anna | Johnson | 34.6% | 54:33 | 13:39 | 24 | F |
| 186 | Dianalys | Bonilla | 34.3% | 55:21 | 13:50 | 18 | F |
| 187 | Nate | Smalls | 34.0% | 55:50 | 13:58 | 50 | M |
| 188 | Omar | Yanqui | 33.8% | 53:38 | 13:25 | 44 | M |
| 189 | Matthew | Ruggeri | 33.1% | 51:16 | 12:49 | 31 | M |
| 190 | Rachell | Vargas | 32.7% | 60:34 | 15:09 | 14 | F |
| 191 | Peter | Noble | 32.4% | 60:34 | 15:09 | 54 | M |
| 192 | Kristian | Johnson | 31.8% | 54:33 | 13:39 | 38 | M |
| 193 | Neil | Kavey | 31.4% | 78:14 | 19:34 | 75 | M |
| 194 | Janet | Cunningham | 31.1% | 64:05 | 16:02 | 41 | F |
| 195 | Leslie | Stasko | 31.1% | 64:05 | 16:02 | 41 | F |
| 196 | Mandy | Perkins | 30.8% | 64:02 | 16:01 | 40 | F |
| 197 | Maria | Dynia | 29.3% | 78:36 | 19:39 | 57 | F |
| 198 | Lily | Barragan | 29.2% | 64:27 | 16:07 | 20 | F |
| 199 | Joanna | Barragan | 29.2% | 64:29 | 16:08 | 23 | F |
| 200 | Kathleen | Barone | 28.5% | 84:33 | 21:09 | 61 | F |
| 201 | Marisa | Dragone | 27.9% | 77:06 | 19:17 | 50 | F |
| 202 | Candice | Paulsen | 26.8% | 70:47 | 17:42 | 35 | F |
| 203 | David | Redline | 25.9% | 75:12 | 18:48 | 53 | M |
| 204 | Kyler | Derissi | 25.1% | 75:12 | 18:48 | 24 | F |
| 205 | Melissa | Nadeau | 24.7% | 78:41 | 19:41 | 38 | F |
| 206 | Lyndi | Szabo | 24.5% | 77:04 | 19:16 | 26 | F |
| 207 | Paige | Williams | 24.5% | 77:04 | 19:16 | 20 | F |
| 208 | Samantha | Chuck | 24.0% | 78:40 | 19:40 | 31 | F |
| 209 | Drew | Cucuzza | 23.1% | 83:22 | 20:51 | 52 | M |
| 210 | Kevin | Redline | 22.6% | 75:11 | 18:48 | 23 | M |
| 211 | Aviva | Poczter | 22.4% | 91:58 | 23:00 | 45 | F |
| 212 | Stacy | Cacace | 00.0% | 41:12 | 10:18 | | F |
| 213 | Hannah | Poczter | 00.0% | 78:50 | 19:43 | | F |
| 214 | Abram | Poczter | 00.0% | 92:01 | 23:01 | | M |
2019 Fun Run results
| Place | First Name | Last Name | Time | Age | Sex | | | |
| --- | --- | --- | --- | --- | --- | --- | --- | --- |
| 1 | Amaira | Traynham | 4:24 | 9 | F | | | |
| 2 | Anoa | Dawson | 4:36 | 8 | F | | | |
| 3 | Sasha | Gogolin | 5:13 | 9 | F | | | |
| 4 | Faye | Fischer | 5:14 | 7 | F | | | |
| 5 | Max | Boim | 5:15 | 7 | M | | | |
| 6 | Leo | Jakubiak | 5:47 | 9 | M | | | |
| 7 | Julia | Sobel | 5:59 | 11 | F | | | |
| 8 | Reese | Muntner | 6:04 | 12 | F | | | |
| 9 | Abigail | Krause | 6:13 | 7 | F | | | |
| 10 | Cameron | Fischer | 6:18 | 5 | M | | | |
| 11 | Chiara | Leca | 6:22 | 6 | F | | | |
| 12 | Marcella | Francese | 6:24 | 5 | F | | | |
| 13 | Ryan | Gentes | 6:40 | 7 | M | | | |
| 14 | Benjamin | Breslow | 6:49 | 4 | M | | | |
| 15 | Natalie | Gentes | 7:25 | 4 | F | | | |
| 16 | Gus | Croteau | 7:35 | 4 | M | | | |
| 17 | Joseph | Boim | 8:27 | 5 | M | | | |
| 18 | Bohan | Samas | 9:38 | 5 | M | | | |
| 19 | August | Damsky | 10:01 | 3 | F | | | |